8 Things You Didn't know about Callum Hudson-Odoi
8 things you didn't know about Callum Hudson-Odoi? Callum Hudson-Odoi plays as winger for Chelsea and he's one of the youngest players there. At only 19, the Blues star is already going places with the first team. Here's everything you need to know about Chelsea winger Callum Hudson-Odoi!
1. Callum Hudson-Odoi Can Play For Both England And Ghana
That's due to the fact that his father is Ghanaian and so Hudson-Odoi stands eligible to play in the national teams of both England and Ghana. However, having been brought up in England, he chooses to play for the England national team. He had played in almost every age group from under-16 to under-19 level in the national team.
2. Callum Hudson-Odoi Is Very Good Friends With Chelsea legend Michael Essien 
 

 

View this post on Instagram

 
Michael Essien is a Ghanaian footballer who played most prominently by Chelsea, although not limited to that. Essien also played for Lyon and Real Madrid during his playing days. He has often addressed Hudson-Odoi as his "little bro" – which is so sweet!
3. He Almost Moved To Bayern Munich
There was a period of apprehension when Bayern Munich swooped in with an offer for the youngster in 2019 – a bid of £30million. However, Chelsea refused to consider anything less than £40million, which is what Hudson-Odoi is valued at.
"He can show, right here at Chelsea, the team he came through the academy at, that he is going to be a world-class player – because I truly believe that," said Frank Lampard, Chelsea's head coach – back then newly appointed.
4. Callum Hudson-Odoi Was The First Person In The Premier League To Catch The Novel Coronavirus
Okay, well, we had to mention this one. It's a bit bleak, but he became the first person to come down with Covid-19, the Coronavirus pandemic, in March 2020. However, he recovered from the virus within two weeks and by April, it was announced that he had fully recovered from the disease.
'I am feeling perfect,' he had stated on the official Chelsea website, after his recovery. 'I had the virus which has cleared now. I fully feel good, I feel fit, so I am feeling back to myself so it is all good.

'I had it [the illness] three weeks ago now I think, on a Monday when I felt a bit hot and I was thinking this is a bit unusual, why do I feel this hot. The next day I was feeling back to normal. I thought it was just a minor temperature thing, but obviously it wasn't. I said to myself this wasn't actually that bad, the symptoms, and I said to myself I feel good, I feel better.'

'Everyone has been asking me how I have been which has been class from them,' he notes. 'They have been showing me support and saying Cal, get well soon, I hope you are okay now. It has been very warming and a good feeling to know you have got your team-mates behind you, backing you and making sure you are feeling well and encouraging you.'
5. His First Senior Goal Was In November 2019
 

 

View this post on Instagram

 
He scored a goal against PAOK in the Europa League, where Chelsea won by a nice 4-0. And Chelsea ended up winning the Europa League! Way to go, Hudson-Odoi!
6. Callum Hudson-Odoi Is The Second Youngest Ever Player To Begin A Competitive Match For England
Before him, only Wayne Rooney stands as the youngest person to start a match for England competitively, who started a match in April 2003. Manager Gareth Southgate praised Callum Husdon-Odoi profusely post the match. 
"Young Callum Hudson-Odoi, a fabulous performance, he's shown us what he's shown us all week," Southgate told ITV.
"I don't need to speak; his performance spoke really. With young players, it is always up to them [how good they can be].
"He's got the talent. His application with us has been excellent, he's got to continue that. This is a great step forward for him but like any player you've got to constantly work and constantly look to improve."
7. His Younger Brother Bradley Hudson-Odoi Was Also A Footballer
It seems like he hailed from a family of footballers! Papa Hudson-Odoi was also a professional footballer and both his sons also turned out to be footballers. Bradley is Callum's older brother and played football professionally up until recently.
8. Callum Hudson-Odoi Is Used To Winning Silverware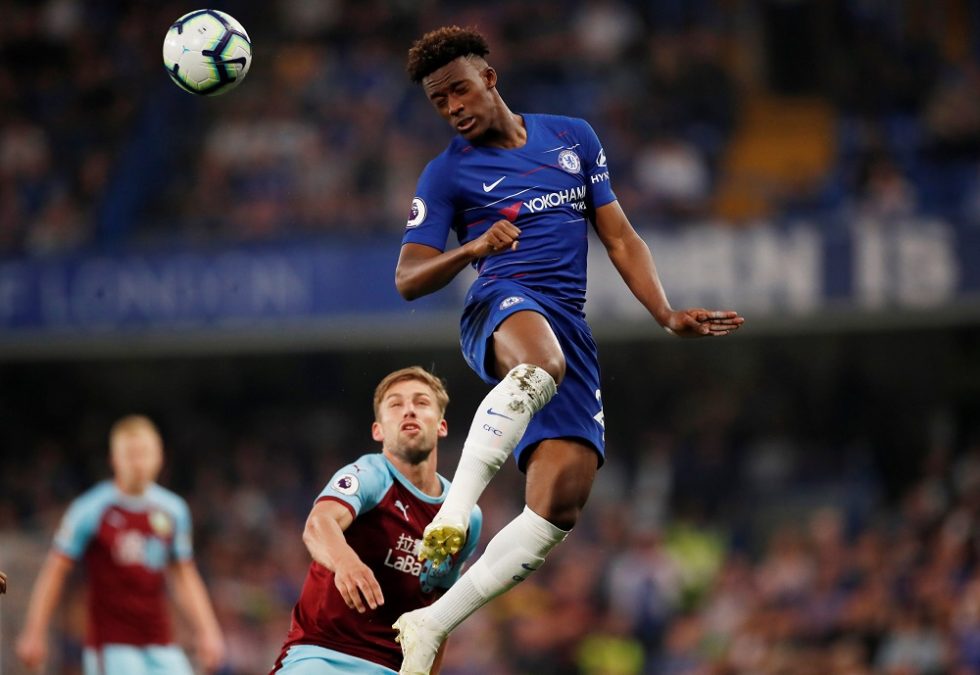 Although barely 19, the teenager has got a taste of winning silverware! He was there when Chelsea won over Manchester City in the 2017 FA Youth Cup final and proceeded to win two FA Youth Cups – and the Under-18 Premier League trophy!
Liked reading about Callum Hudson-Odoi? You might like these as well:
10 Things You Didn't Know About Frank Lampard
10 things you didn't know about N'Golo Kante!
Ten Things You Didn't Know About Christian Pulisic