Chelsea FC Squad, Team, All Players 2022
Here we have the full Chelsea FC Squad, Team, All Players 2022 list. We have included the squad from previous years too if you want to take a trip down memory lane. But first, we have the Chelsea FC Squad, Team, All Players 2022 list. Watch & Bet Football Live =>

Chelsea FC 2021-22 Squad – First Team 2022
Chelsea FC new player in and out 2022. Here is Chelsea FC First Team Squad 2022.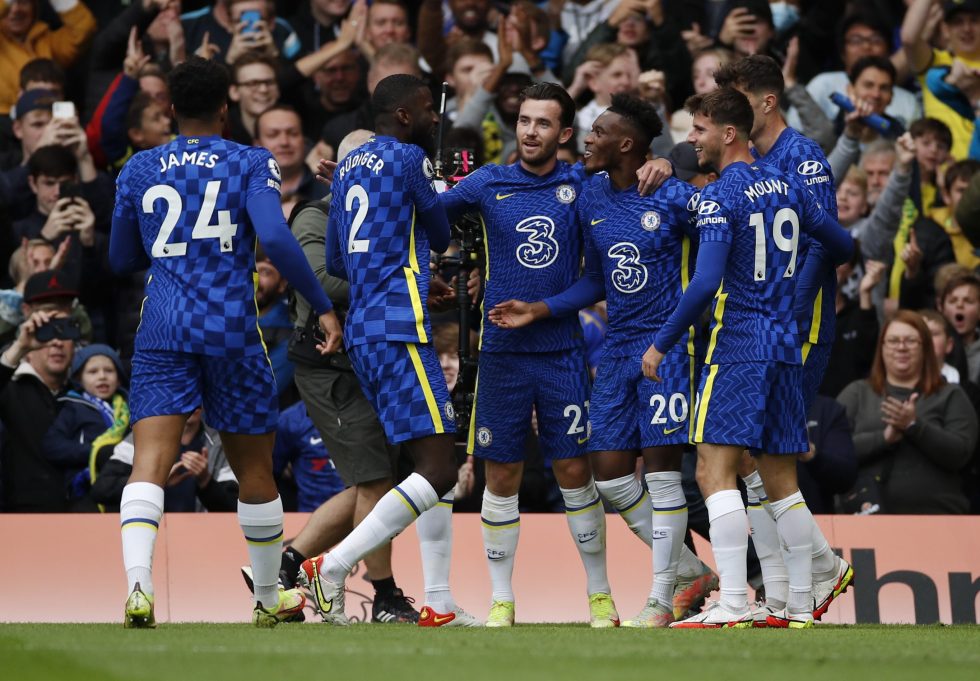 Chelsea FC Squad, Team, All Players 2022
This is a new look Chelsea squad. The big players like Thibaut Courtois and Eden Hazard have departed the club. There are old players who are still in the club but the old campaigners like David Luiz, Gary Cahill, Rob Green and Willian are no longer part of the first-team squad. But some dynamic new faces have come in.
Frank Lampard had implemented a new system in Chelsea
Last coach, Frank Lampard had started a new system where he wants new players to come through The young guns from the Chelsea FC youth academy. He had introduced talents he had on loan last season at Derby County like Mason Mount and Fikayo Tomori. He also brought in other loanee young stars like Tammy Abraham.
Together with other young players like new boy Christian Pulisic and club favorite Callum Hudson Odoi coming back, Chelsea have a strong youth outlook to their team. This is not to say they have completely disbanded the experienced players. They have Giroud and Azpilicueta as well.
There is also a midfield of smart and experienced players like Jorginho and N'Golo Kante. Now they have a new boss in Tuchel who seems excited to play with the team.
Chelsea Current Transfer News And Form: Chelsea FC Squad
Thomas Tuchel took over the club in 2021 when Chelsea sacked Franck Lampard after a poor show in Premier League. Tuchel transformed the Blues in few months and Chelsea won the UEFA Champions League title in May 2021 by defeating English rivals Man City in final. They also finished in the top four of season 2020/21.
Ahead of season 2021/22, Chelsea made the biggest signing of the club and included Romelu Lukaku from Inter Milan for a huge price of £97.5 million to boost their attack. They also got Marcus Bettinelli for free and Saul Niguez from Atletico Madrid through the season-long loan.
Chelsea FC current squad 2022: Chelsea FC Squad
Here is Chelsea FC current squad 2022 and the Chelsea First Team Squad 2022
Chelsea FC Goalkeepers
1. Kepa Arrizabalaga
13. Marcus Bettinelli
22. Edouard Mendy
Chelsea FC Defenders
2. Antonio Rudiger
27. Andreas Christensen
28. Cesar Azpilicueta
24. Reece James
14. Trevor Chalobah
3. Marcos Alonso
13. Ben Chilwell
6. Thiago Silva
31. Malang Sarr
Chelsea FC Midfielders
5. Jorginho
17. Mateo Kovacic
7. N'Golo Kanté
18. Ross Barkley
12. Ruben Loftus-Cheek
23. Kenedy
19. Mason Mount
29. Kai Havertz
22. Hakim Ziyech
Chelsea FC Strikers
20. Callum Hudson-Odoi
22. Christian Pulisic
17. Timo Werner
9. Romelu Lukaku
Chelsea FC Squad 2022 – First Team 2022
Chelsea FC new player in and out 2022. Here is the Chelsea FC First Team Squad 2022. Chelsea FC new player in and out 2022. We have the Chelsea FC First Team Squad 2022. Watch & Bet Football Live =>
Here is where you will find the full Chelsea FC Squad for the 2022 season. You can view other Chelsea articles here, such as Chelsea FC Transfers History 2022: Latest Transfer News!
Chelsea FC Squad 2018/19 season
2018/19 season was a rather mixed season for the Blues. They finished third in the league only behind the big two of Liverpool and Manchester City. In the Carling Cup, they reached the finals and in the FA Cup they got knocked out early by Manchester United. However, their biggest win came in the Europa League where they beat Arsenal 4-1 in the final to lift the trophy.
The Blues were also introduced to a new style of football by Italian boss Maurizio Sarri. The Italian was however, not famous for his relation with the fans as he was very stubborn about his ways even in tough times. This saw Sarri feel frustrated by the Chelsea job and he left the club in search of greener pastures once Juventus came knocking.
Chelsea FC Squad 2017/18 season
The 2017/18 season before that under Conte was not a good one either. The Blues finished fifth in the league and missed out on Champions League football. In CL itself, they were knocked out in the round of 16 by Barcelona. In the FA Cup however, Antonio Conte broke the record he held of not winning knockout competitions by getting his hands on the FA Cup silverware.
Chelsea FC Squad 2016/17 season
The year before. 2016/17 was a very successful season for Chelsea FC. They reached the FA Cup final, and most importantly, won the Premier League in their first season managed by Antonio Conte. There were doubts at the beginning of the season that Conte was the right man, after losses to rivals Arsenal and Liverpool. However, after a change of formation, Conte had a very successful season and in the end, Chelsea ran out comfortable winners of the league.
The season after, they did not play well and finished fifth which was improved on by Sarri, the next manager who got a third-place finish and a Europa League but he too got the sack and was replaced by Lampard who has started the new season with lots of energy, at least in terms of effort and determination.
In 5 matches so far, the Blues have scored 11 goals, and all 11 goals have been scored by Chelsea graduates, a record for Chelsea as only 14 of their last 427 goals until last season in the last few years had been scored by graduates.
In the face of a transfer ban, it is this attitude by Frank Lampard that has made him an even bigger fan favourite than he already was. The Blues have exciting young players up front in the likes of new American signing Christian Pulisic and Callum Hudson Odoi while old heads like Pedro and Willian are also in the mix. Tammy Abraham not only leads the Chelsea front line but also the scoring charts in the Premier League with 7 goals in 5 matches.
In midfield, Chelsea have the ever dependable Kante and Jorginho has also improved by miles this season. They also have the new and upcoming Mason Mount who is proving to be a world beater. Finally, in defence, there has been problems so far but Chelsea will be looking forward to the return of Antonio Rudiger. In goal, the ever dependable Kepa will want to make it big.
Chelsea FC Squad, Team & All Players Previous Seasons
Here we have the full Chelsea FC Squad, Team and All Players list from previous seasons. We have included the squad from previous years too, if you want to take a trip down memory lane. But first, we have the Chelsea FC Squad, Team and All Players list from the last seasons.
Chelsea FC 2018-2019 Squad – First Team 2018/2019
Chelsea FC new player in and out 2018/2019. Here is Chelsea FC First Team Squad 2018/2019. Watch & Bet Football Live =>

Chelsea FC Squad, Team, All Players 2018/2019
Chelsea FC Goalkeepers
1. Kepa Arrizabalaga
13. Willy Caballero
31. Robert Green
Chelsea FC Defenders
2. Antonio Rudiger
27. Andreas Christensen
28. Cesar Azpilicueta
30. David Luiz
21. Davide Zappacosta
33. Emerson Palmieri
24. Gary Cahill
3. Marcos Alonso
44. Ethan Ampadu
Departures 2018/2019
Victor Moses (On loan at Fenerbahce)
Baba Rahman (on loan)
Chelsea FC Midfielders
6. Danny Drinkwater
5. Jorginho
17. Mateo Kovacic (Loaned from Real Madrid)
Marco Van Gingel
7. N'Golo Kanté
8. Ross Barkley
12. Ruben Loftus-Cheekk
Departures 2018/2019
Kenedy (On loan at Newcastle)
Cesc Fabregas
Charly Musonda Jr
Chelsea FC Strikers
20. Callum Hudson-Odoi
10. Eden Hazard
9. Gonzalo Higuain
18. Olivier Giroud
11. Pedro
22. Willian
Departures 2018/2019
Lucas Piazon (On loan at Chievo Verona)
Michy Batshuayi (On loan at Crystal Palace)
Alvaro Morata (On loan at Atlético Madrid)
Tammy Abraham (On loan at Aston Villa)
Christian Pulisic (On loan at Borussia Dortmund)

Chelsea FC 2018-2021 Squad – First Team 2018/2021
Chelsea FC new player in and out 2016/2017. Here is Chelsea FC First Team Squad 2016/2017 Watch & Bet Football Live =>
Chelsea FC Squad, Team, All Players 2016/2017
Chelsea FC Goalkeepers
Thibaut Courtois
Asmir Begovic
Eduardo
Chelsea FC Defenders
Cesar Azpilicueta
Gary Cahill
Branislav Ivanovic
John Terry
Kurt Zouma
Ola Aina
Matt Miagza
Marcos Alonso
David Luiz
Chelsea FC Midfielders
Eden Hazard
Cesc Fabregas
N'Golo Kante
Ruben Loftus-Cheek
Nemanja Matic
John Mikel Obi
Oscar
Pedro
Willian
Victor Moses
Nathaniel Chalobah
Chelsea FC Strikers
Diego Costa
Michy Batshuayi
Chelsea FC Player Appearances and Goals From previous seasons – 2015/2016
Season 2015/2016
Premier League
Squad
numbers
Player
Ap

Sort

Gl

Sort

36
Ruben Loftus-Cheek
1 + 3
0
28
César Azpilicueta
21 + 1
2
26
John Terry
18 + 0
1
24
Gary Cahill
11 + 1
1
22
Willian
20 + 2
3
21
Nemanja Matic
18 + 4
1
20
Victor Moses
0 + 0
0
19
Diego Costa
18 + 1
8
18
Loïc Remy
1 + 9
1
17
Pedro
15 + 3
2
16
Kenedy
1 + 6
0
15
Papy Djilobodji
0 + 0
0
14
Bertrand Traore
0 + 1
0
13
Thibaut Courtois
12 + 0
0
12
John Obi Mikel
7 + 5
0
10
Eden Hazard
17 + 3
1
9
Falcao
1 + 8
1
8
Oscar
14 + 3
3
7
Ramires
7 + 5
2
6
Baba Rahman
3 + 1
0
5
Kurt Zouma
19 + 2
1
4
Cesc Fàbregas
19 + 3
1
2
Branislav Ivanovic
19 + 0
1
1
Asmir Begovic
11 + 1
0
Chelsea FC Player Appearances and Goals 2014/2015
Season 2014/2015
Premier League
Squad
numbers
Player
Goals
Gl

Sort

74
Mohamed Salah
0 + 3
0
37
Isaiah Brown
0 + 1
0
36
Ruben Loftus-Cheek
2 + 1
0
31
Andreas Christensen
0 + 1
0
28
César Azpilicueta
29 + 0
0
26
John Terry
38 + 0
5
24
Gary Cahill
33 + 3
1
23
Juan Cuadrado
4 + 8
0
22
Willian
28 + 8
2
21
Nemanja Matic
35 + 1
1
19
Diego Costa
24 + 2
20
18
Loïc Remy
6 + 13
7
17
André Schürrle
5 + 9
3
13
Thibaut Courtois
32 + 0
0
12
John Obi Mikel
6 + 12
0
11
Didier Drogba
8 + 20
4
10
Eden Hazard
38 + 0
14
8
Oscar
26 + 2
6
7
Ramires
11 + 12
2
6
Nathan Aké
0 + 1
0
5
Kurt Zouma
7 + 8
0
4
Cesc Fàbregas
33 + 1
3
3
Filipe Luis
9 + 6
0
2
Branislav Ivanovic
38 + 0
4
1
Petr Cech
6 + 1
0

SEE MORE: