Here are 10 things you didn't know about N'Golo Kante!
N'Golo Kante is known to be one of the most humble players in the football world, and luckily, Chelsea has him as a part of their team! He is loved for his kindness, hardworking spirit and humble personality – and being a great football player. He's basically the perfect person. But no one is perfect, and Kante isn't either. He has his little quirks and facts that no one knew about. Here are 10 things about N'Golo Kante that you probably had no idea about!
1. N'Golo Kante Sifted Through Trash To Earn His Living As A Kid
It's true! Kante comes from a very humble background. His family was not rich and he was not brought up in comfort. He used to pick trash as a kid to earn a living – before becoming a world-class footballer. Hats off to him!
2. Kante Still Drives A Mini-Cooper – Despite His High Salary
One would think that with a huge paycheck, one would buy a great car, a beautiful house – and all the material possessions you can think of. But that's not our Kante! He still drives around in his little Mini-Cooper and is perfectly comfortable with owning it. A very humble lifestyle – he's not one to flaunt his riches.
3. He Knew He Wanted To Become A Footballer At Age 8
Many of us have undecided passions or careers in our lives, but it seems as though N'Golo Kante was pretty of his career. Ever since he was a little kid, he knew that he wanted to make a living out of playing footballer. And as we now know, he's definitely very successful at it!
4. …..And If Football Didn't Work Out, He Had Accountancy As A Backup Option
That's right. Although he was sure of what he wanted to do professionally, he was also smart about keeping backup options. And one such option was to become an accountant if becoming a footballer didn't work out. Smart move, Kante!
5. N'Golo Kante's Relationship Status Has Always Been A Secret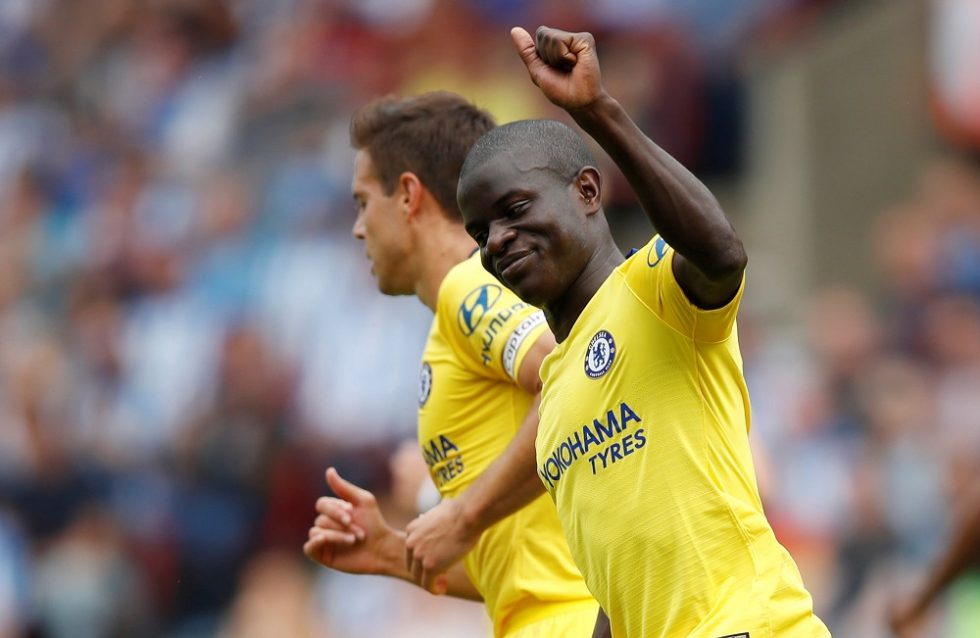 If you ever wanted to know whether Kante has a wife or a girlfriend, well, tough luck. He's not one to reveal much (or any) information on this topic. Feel free to search through the internet for this, but in all probability, you won't find much!
6. There's A Song The French National Team Made Up For Kante
Who wouldn't want a song dedicated to them, especially by their national football team? The team made up a song for him referring to when Kante "stopped" Messi during the World Cup match of France vs Argentina – where France won. Here are the song lyrics in English (although we have to admit, the French version tops it any day) – 
"N'Golo Kante,
"Pala Lalala,
"He's short, he's nice,
"He stopped Leo Messi,
"But we all know he's a cheater,
"N'Golo Kante"
Sweet.
7. Kante Never Pays When He Dines At Willian's and Luiz's Restaurant
Well, can't say we've all never guilty of this. And Kante is no exception! Kante's pals Willian and David Luiz co-own a restaurant in London. They often have their friends and teammates over lunch or dinner. We have to bring his paycheck here again – because, despite the big salary amount he receives, he never passes up a free meal at his friends' restaurant – which is called Babbo. He somehow always slips out of paying for the food there. Willian said, "If you ask N'Golo, 'pay', he does like that… 'Yeah? I have to pay? Oh no! You and David you're good, you have a good heart.'" Very very smooth, N'Golo.
8. He's Worth 23 Million Euros
It surprises a lot of people that N'Golo Kante has such a high net worth. Currently, his net worth is 23 million euros and has risen quite a bit over the years. The reason for this is that even though Kante pays his taxes fully (elaborated in the next fact!) and donates a lot, he's one of Chelsea's highest earners. With a salary of £150,000 per week, it's easy to see how he's worth so much.
9. Kante Doesn't Cheat On His Taxes – Except When He Plays Cards
He might not pay at his friends' restaurant, but he definitely pays his taxes! He never beats around the bush with them and pays his taxes fully upfront. Chelsea had offered to pay his taxes using an offshore account to avoid certain charges and have lesser tax cuts, but Kante repeatedly refused. He simply wants to have a regular salary and pay his taxes like a common man – and for that, big respect!
Kanté's France team-mate Blaise Matuidi said after hearing this: "I didn't really follow this story, but I'm not surprised because it is N'Golo. He's perfect, he doesn't cheat. Just a bit when he plays cards."
Okay, no playing cards with Kante then!
10. Kante Was Okay With Running To Training Sessions, Instead Of Using A Car
N'Golo Kante absolutely cannot more humble than this. in France, he would use a kick scooter and carry a backpack with him to training (isn't that adorable!). When he came to Leicester, he insisted on running to reach his training sessions every day and not use a car to travel. For a while, he actually did that, until he was finally persuaded into buying his Mini Cooper.
'A lot is made of the fact Kanté prefers to drive a Mini rather than operating with the fleet of dream machines that other members of his profession consider essential. But it turns out that when Kanté first arrived in Leicester he was not even sure he needed any wheels. Kanté, the story goes, reckoned it was possible to run into training every day and had to be persuaded that it wasn't usually done that way in the Premier League," said Daniel Taylor, from The Guardian.
A bow to the humble Kante, everyone!
See More: 10 Things You Didn't Know About Frank Lampard
                5 Things You Didn't Know About Kepa Arrizabalaga
                Chelsea squad: 5 things you didn't know about the current squad!