10 things You Didn't Know About Frank Lampard
10 things you did not know about Frank Lampard is a list designed for our Blues manager. He is definitely a club legend and there are so many things about him that continue to astonish us. He might be Chelsea's current manager, but there's more to him than just that – true Blues fans will know. So here are 10 things you didn't know about Frank Lampard!
1. Frank Lampard Is The Author Of 18 Children's Books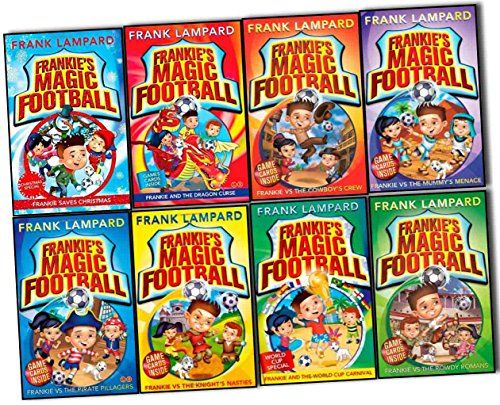 Bet you had no idea about this one! Yes, it's true, our Frank has authored a whopping 18 children's books, the most popular being the Frankie series. Out of everything in the world, one definitely wouldn't think that the present Chelsea manager had written books for children! And what's more, they're great – so give them a read.
2. He Hails From A Family Of Footballers
No wonder Frank Lampard went on to become a footballer. He grew with a family immersed in football. His father Frank Lampard Senior, played football in a professional capacity as well. In fact, his father was also a technical assistant at English club West Ham. Other than his father, Frank Lampard's uncle is Harry Redknapp, who was also a professional footballer. However, Harry Redknapp is best known for his coaching year. Redknapp has managed several clubs in his years, like AFC Bournemouth, West Ham United and Tottenham Hotspur, among others. 
3. Frank Lampard Was Called Fat Frank 
Although never really fat, Lampard was often known as "Fat Frank" during his playing days. In fact, he was a rather fit player but the nickname stuck. However, Lampard was a healthy child, and the name came from there. However, his name soon transformed from Fat Frank to Super Frank – and that fits him more than ever!
4. He Got Really Good Grades At School
Some say he's intelligent – well of course he is! But other than that, he is also quite hardworking – a characteristic displayed by him right from the school days. 
"I was pretty studious at school. I wasn't the most naturally intelligent kid in the class, but I was fortunate to go to a very good school where they pushed you hard, and like most things I didn't want to let anyone down, so I revised hard for my exams. I got that A* in Latin, but I can't remember much of it now, just the common verbs. If I see a football club motto in Latin I can work it out, though." Lampard reminisces.
5. Frank Lampard Is Chelsea's Leading Goalscorer Till Date
No one has been able to beat that record yet. For a long time now, Frank Lampard has remained the leading goalscorer for the Blues and it will definitely be a while before anyone is able to top that. At 211 goals, it's not surprising why he's at the top still. The second leading goalscorer is Bobby Tambling with 202 goals, and the third leading goalscorer is Kerry Dixon with 193 goals.
6. He's Fond Of Gambling
Super Frank is known to have an interest in betting over horse races. He would often go betting with pals John Terry and Arjen Robben at horse races. He's fond of betting, sure, but once he lost over 700k pounds on a bet! That's a lot of money to lose.
7. Frank Lampard Didn't Have An Easy Start To His Career
Even though he came from a football background, he was often put down for having taken advantage of his "celebrity" family – and that included his uncle Harry Redknapp. Since his uncle was the technical assistant at West Ham United while Frank Lampard was a part the squad, many fans accused him of nepotism. He was seen as having no talent and only reached so far due to his family connections. However, Lampard soon proved them wrong and went on to become one of the most celebrated footballers ever!
8. Lampard Was Discouraged From Playing Football Professionally By His Teacher
His teacher at school always discouraged the idea of him pursuing a career in football. The teacher told him that he would never reach great levels needed to become a successful footballer in life. Clearly, that wasn't Lampard's fate, as we now clearly know. As for the teacher, Lampard simply sent him a Chelsea match ticket when he first debuted for the Blues. Guess the teacher won't be discouraging him anymore!
9. Frank Lampard Ranks 4th In The Premier League Table For Most Assists
With 102 assists, Super Frank has his name up in the Premier League table for most assists – and that too, of all time. Even until now, he has only gone down to the 4th position in the table. Above him is Wayne Rooney with 103 assists, Cesc Fabregas with 111 assists, and Ryan Giggs at the top with 162 assists.
10. Lampard Played At Chelsea For 13 Long Seasons
Frank Lampard first came to Chelsea in 2001. And little did he know that he would stay on for the next 13 season – till the year 2014!
See More: Chelsea FC Top Scorers of all time (all competitions by season)
                Best Chelsea managers ever – best win percentage and most wins ratio stats! 
                Top 10 Chelsea players with most assists ever