Best Chelsea shirts of all time – which is the best Chelsea kits of the Premier League era?
Best Chelsea kits of all time? Chelsea shirt for 2023? Are you here for the new Chelsea kit, jersey and shirt? Which is best Chelsea away kit of all time? The Premier League has been the most prosperous period in the club's history. Superstar signings paired with numerous trophies have elevated Chelsea's status to that of an English giant. Watch & Bet Football Live =>
Best Chelsea kits of all time – which is the best Chelsea shirts of the Premier League era?
Which are best Chelsea shirts? Perhaps the most memorable elements of Chelsea's success are their kits brought on by Umbro, Adidas and now Nike. There isn't much you can do with Chelsea's all-blue home shirt but some of the innovations have made it into this list. We have seen some pieces of beauty that remain stocked inside fans' closets.
Now, Chelsea brand new addition of NIKE shirts have definitely drawn divided opinions from the fan base.
New Chelsea Kits 2023/24
The Chelsea home jersey had a clear colour pattern. Club has given tribute to the Pride of London's '97-'98 season with the blue, white and gold Chelsea FC Home 2023/24 shirt.
90's inspired and shimmering in gold, celebrating 25 years since our iconic 97/98 season where Chelsea took home the UEFA Cup Winners' Cup.
View this post on Instagram
And the Chelsea training jersey did catch attention real quick.
View this post on Instagram
New Chelsea Kits 2022/23
The Chelsea home jersey had a clear colour pattern. Nothing too dramatic.
View this post on Instagram
But the Chelsea away jersey did catch attention real quick.
Top 10 Best Chelsea kits in recent years
Here you can see the ten best Chelsea jerseys from the last 25 years –
10. Away – 2003/05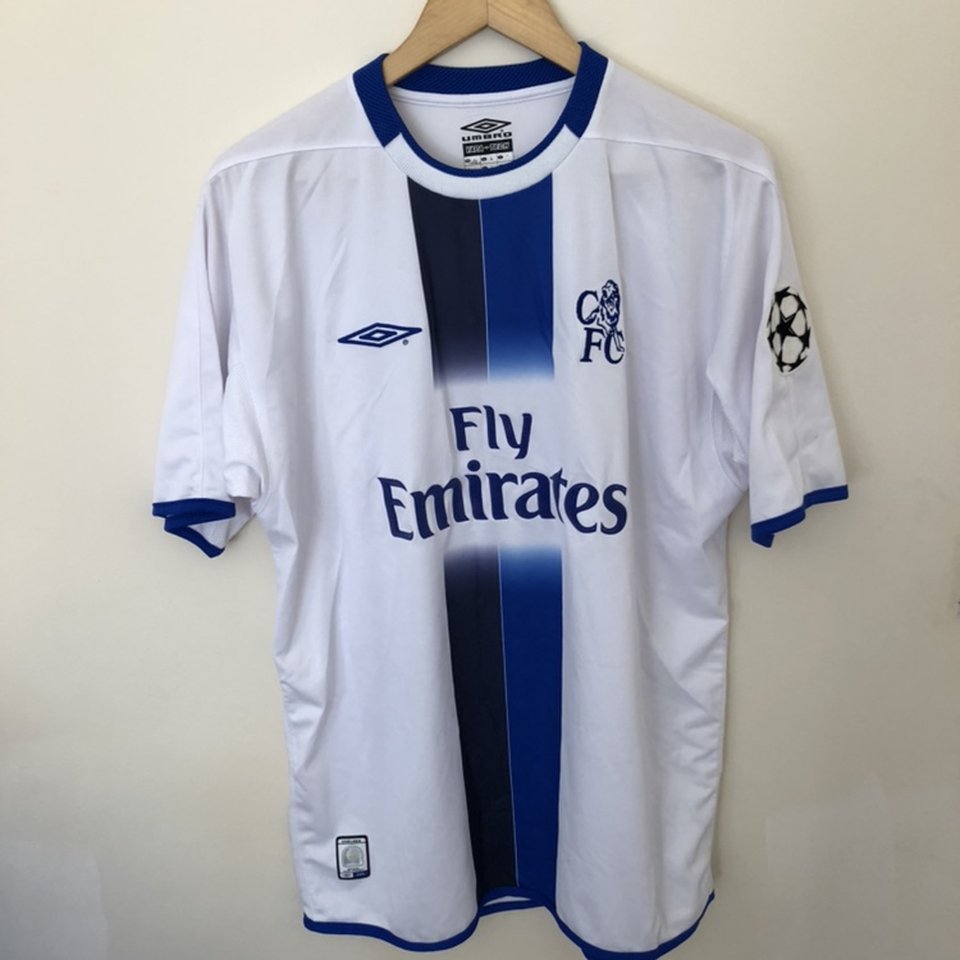 Clean whites always give off a classic look but it's the patterns of blue and black that makes this one stand out.
This shirt got the vertical treatment of dark blue and black down the centre. The blue scented collars and sleeves completed the look to make it truly iconic. It was mainly worn during the revolution of Chelsea football club in the early 2000s. Watch & Bet Football Live =>
9. Umbro Home – 2005/06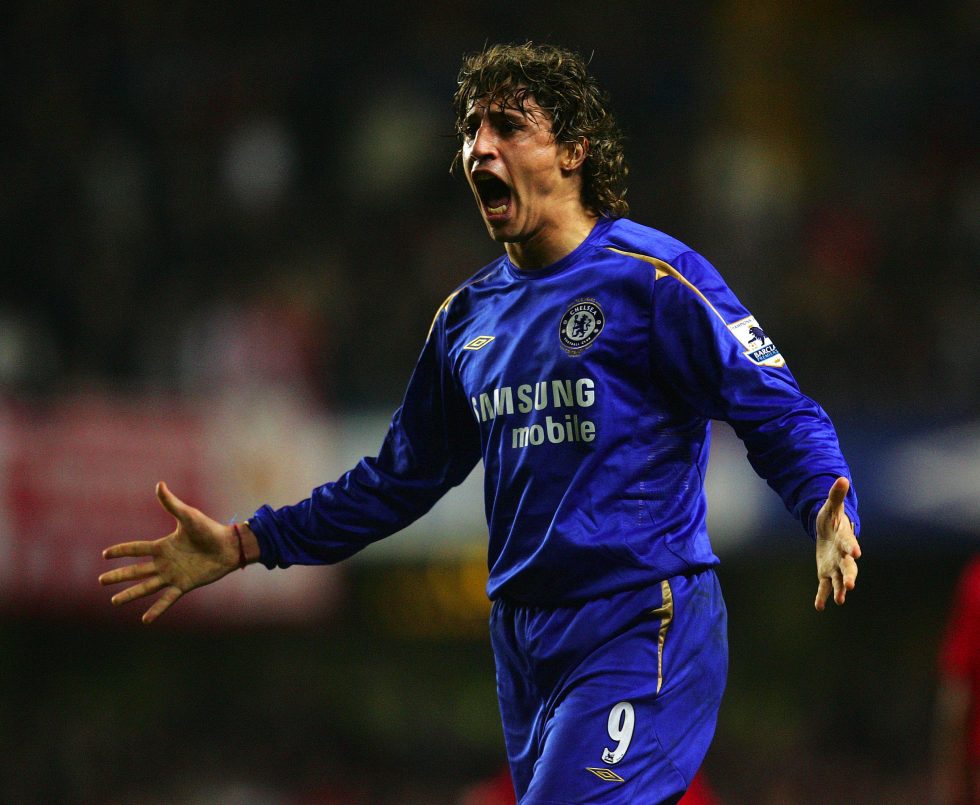 This was a kit made to celebrate Chelsea's 100 years anniversary. Umbro used Gold to accent the navy blue in trace amounts. A bit of gold on the shoulder, down the pants and in the linings under the shirt made it look glamourous and classy.
Jose Mourinho led the club to a second league title in the Roman Abramovich-era to make this kit one of the fans' favourites of all time.
8. Umbro Home – 1995/97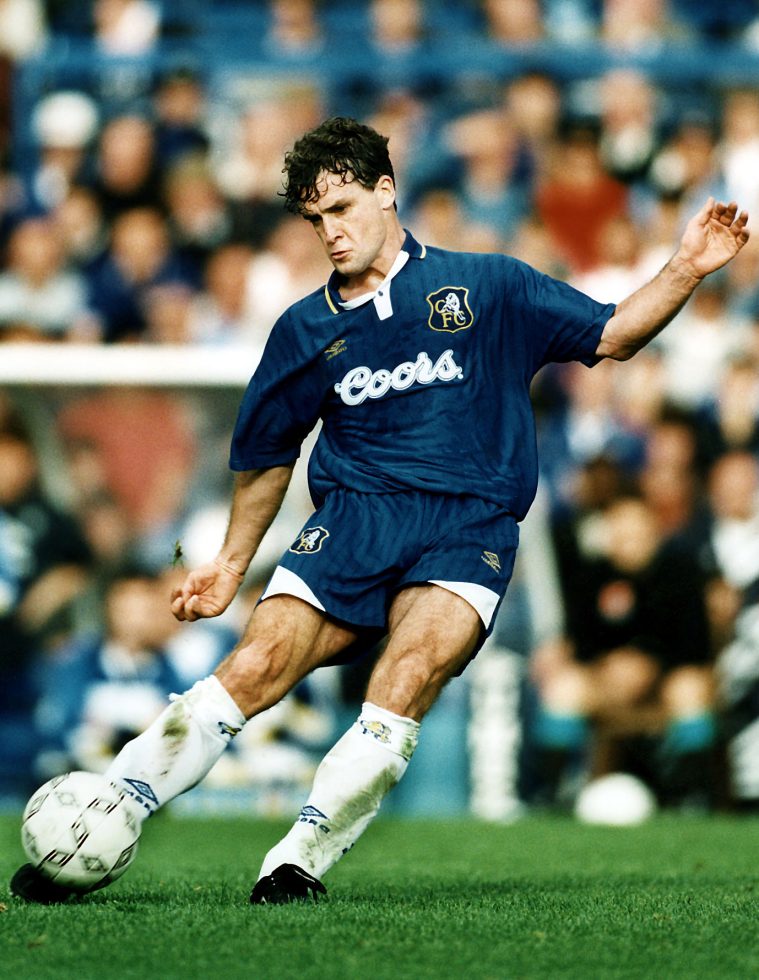 Umbro's touch of brilliance started in the early '90s with the old Chelsea crest. When Coors was still sponsoring the club, the home kit of 1995/96 season stood out. It was the start of something exciting at the club, winning the FA Cup final over Middlesborough in 1997.
7. Adidas Third Kit – 2014/15
Hello all! Today we introduce our new 2014/15 third kit. Pre-order yours here: http://t.co/l98jPiJdQr #allinCFC pic.twitter.com/Y1qOS6WVQN

— Chelsea FC (@ChelseaFC) July 23, 2014
Adidas really had to push they edge to make a black third kit stand out.
6. Adidas Home – 2006/08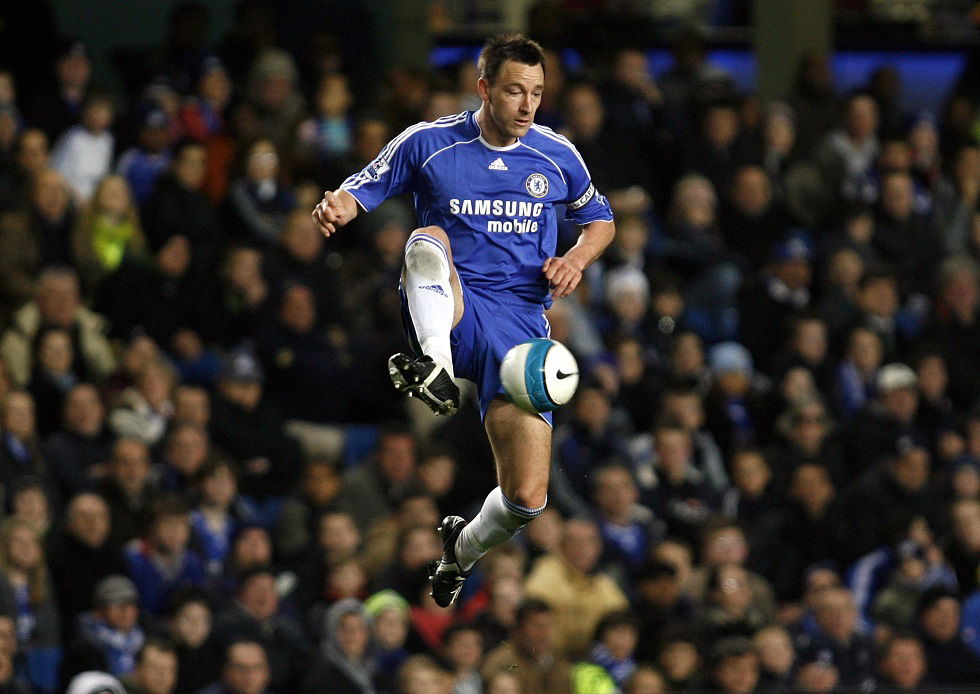 In their first year of sponsoring Chelsea, Adidas' classic three strips down the sleeves became a fan favourite look. Their own logo was imprinted down the centre and the sleeves rolled all the way down to the elbows.
The Blues captured both domestic cups and reached their first Champions League final wearing this iconic Chelsea kit.
5. Adidas Third – 2008/09
IMO the 11/12 away kit is better than the 19/20 away kit – both are not better than none of the Chelsea Yellow kits https://t.co/8GT7DlWaEz pic.twitter.com/C8xT33KTTH

— robdogjay (@robdogj) April 29, 2020
Yellow away kits have become very popular in recent times. This first edition by Adidas pulled eyes due to it's clean design and blue round neck collar. Chelsea beat Everton in their fifth FA Cup triumph to these colours.
4. Umbro Home – 1997/99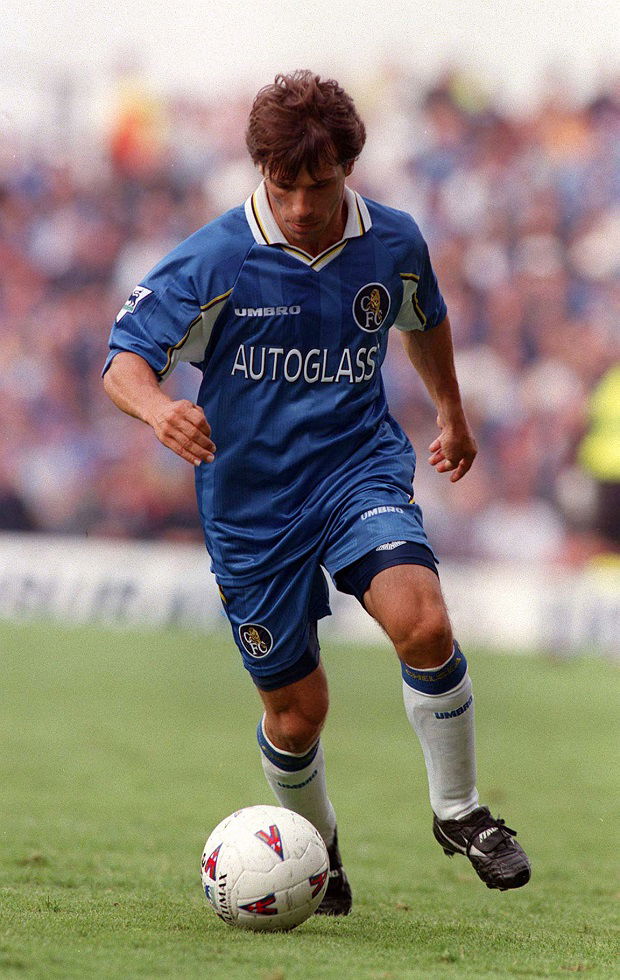 Chelsea legend, Gianfranco Zola scored the winner in the 1999 European Cup Winners' Cup final in Stockhold wearing this home kit. Back when Umbro still wrote their own name instead of printing their design and the Autoglass sponsorship logo ran down the middle, the kit that was worn for Chelsea's first European triumph since 1971.
A combination of black, yellow and white on the sleeves gave it that distinctive look.
3. Umbro Away – 2004/06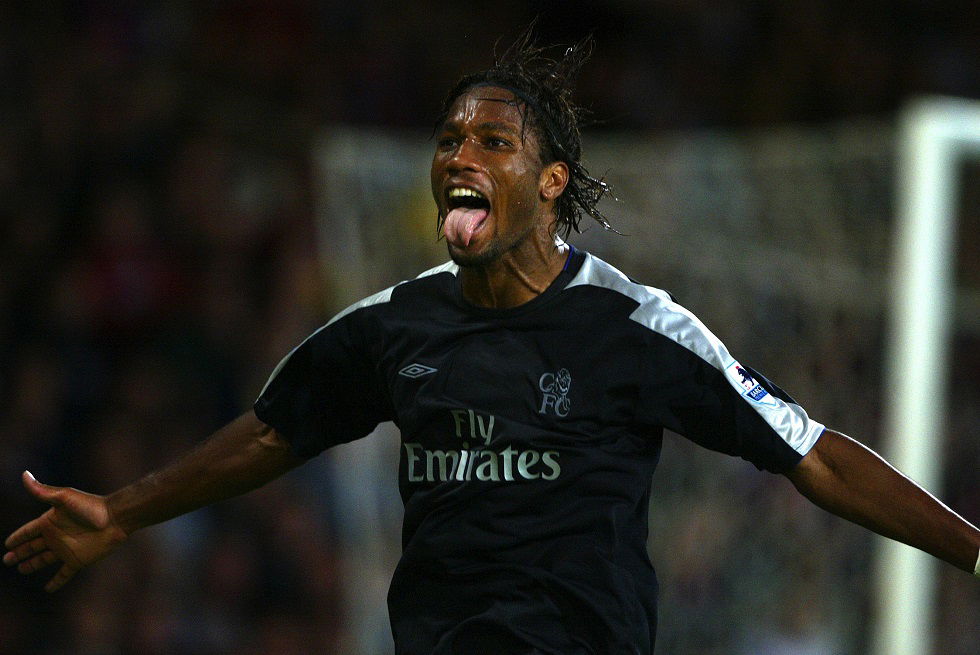 To this day, the Chelsea away kit from 2004 is one of the most sought after jerseys amongst fans. The silver and the black patters were undeniably gorgeous. Club legend, Didier Drogba scored his first away goal Chelsea in these prints.
2. Umbro Away -1994/96
Rata2 pd kenal chelsea di era 2004 @NineSportInc: Chelsea away kit, 1994–96. jarang bareng liat ada yang pake pic.twitter.com/75YdKm6QMH"

— Rudi.Yansah (@Yansah09) October 29, 2014
Now, this kit isn't popular amongst ALL fans but it has a cult following. When released, it drew a lot of criticism but it is that exact unique design that has gone down as a club classic.
The orange and grey stripes were the start of bold choices made in jersey designs.
1. Umbro Home – 2003/05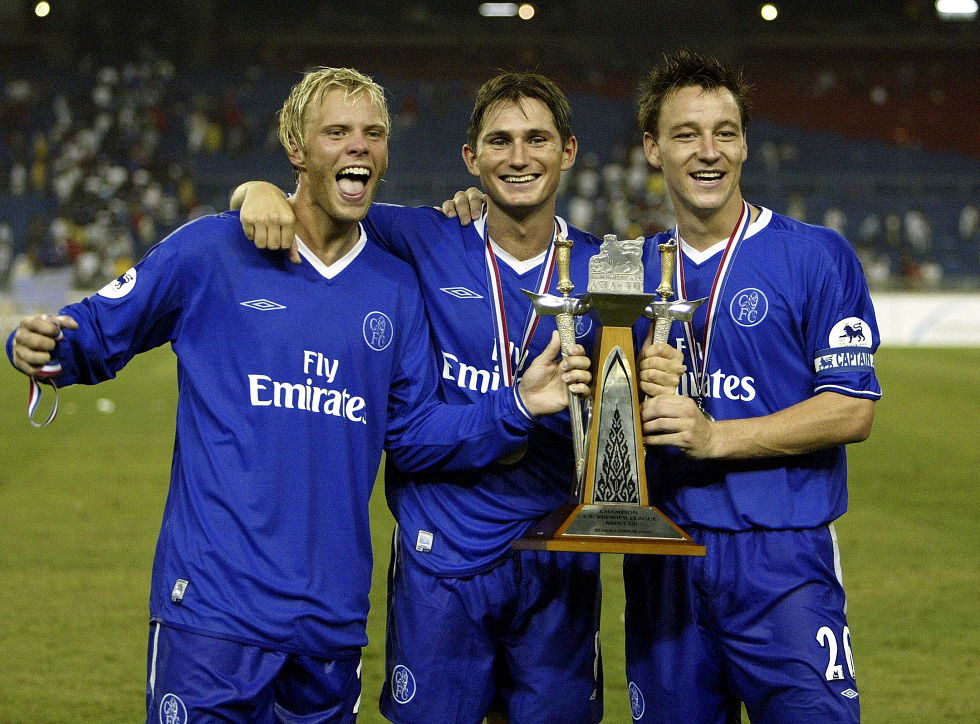 A special kit, for the special one. This Chelsea kit will remain one of the very best in the club's history due to what it signifies – the rise to the top. Led by Jose Mourinho, Chelsea began the Roman era by winning the Premier League title in April of 2005 – their first domestic title in 50 years.
Umbro knocked it out of the park with their simple choice of a V-neck collar.
READ MORE: