Top five tallest Chelsea players in the 2018/19 squad
Top five tallest Chelsea players in the 2018/19 squad? Who are the five tallest Chelsea players this season? Antonio Rudiger's height? David Luiz' height? Marcos Alonso's height? Olivier Giroud's height?
Which Chelsea players are the tallest? Here we take a look at the tallest Chelsea players in the current squad.
Chelsea have a lot of tall players in their squad. So which Chelsea players are the tallest?
Tallest Chelsea player 2019
Height is an important factor in football. Teams usually prefer tall centre-backs and goalkeepers in order to stop the opposition team from scoring. While strikers heights are becoming a more popular factor too as many teams look to have a target man to play off in attack.
Chelsea usually like to play with a tall, strong and athletic stiker to play off with smaller players like Eden Hazard and Pedro benefitting. In 2017-18 they had the big Diego Costa to bully opposition but they have no managed to find a replacement forward for him yet.
Morata was just as tall but his play is not physical and he was not upto the task of winning the long balls. Higuain who has come in the January transfer window, has done a better job but he also has been not upto the mark yet and maybe needs some more time to get used to Premier League football.
So here the five tallest Chelsea players this season in 2017/18
So here we look at Chelsea players heights for 2018. Which five Chelsea players are the tallest?
5. Marcos Alonso 1.88m (6 ft 2 in)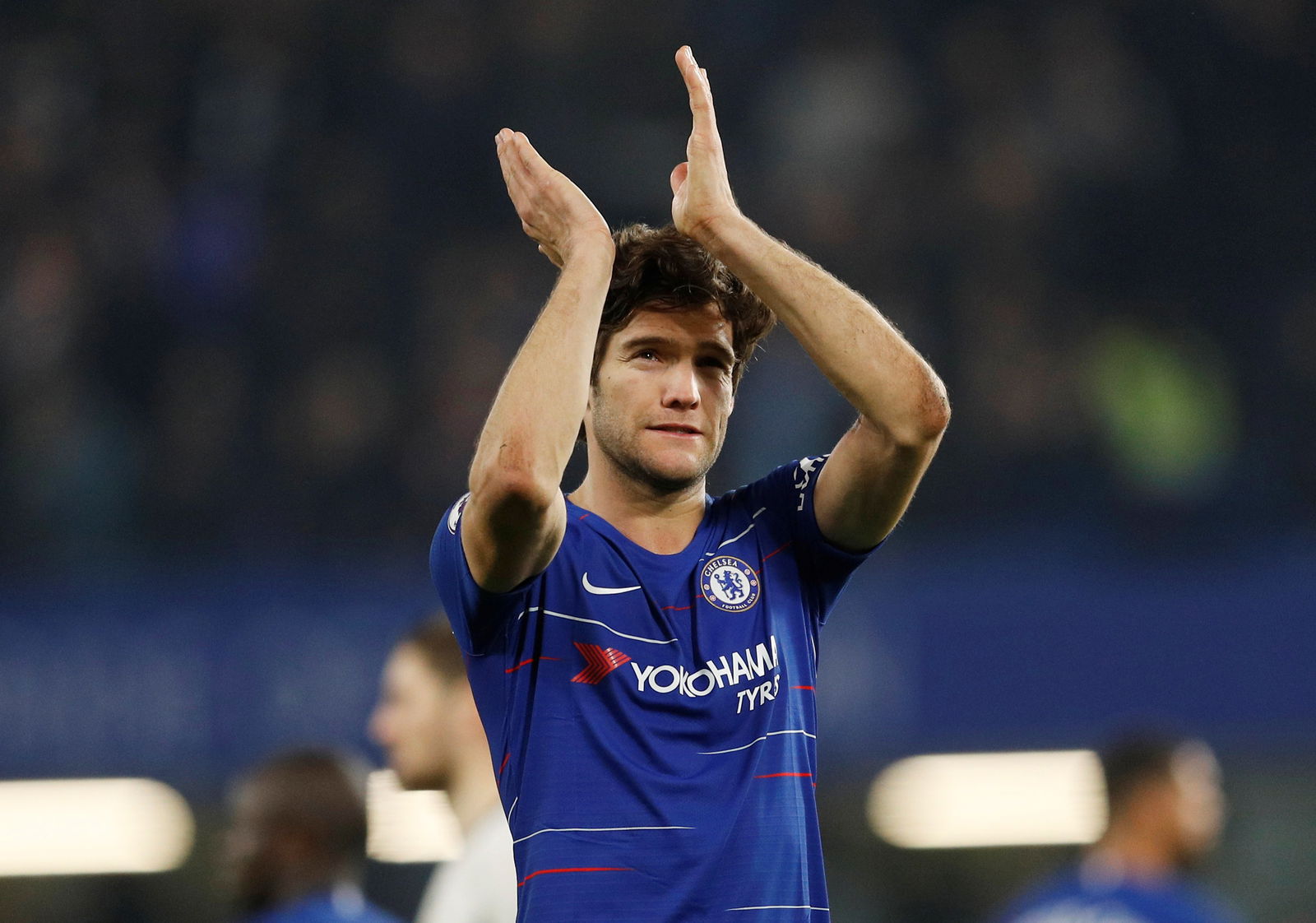 The burly left back joined the Blues camp back in the summer of the 2016-17 season. His initial days saw him stay out of the first team as he did not fit in the four man back style but Arsenal's 3-0 hammering of Chelsea saw then boss Antonio Conte change the style to a 3 man back with 2 wing backs.
This allowed Marcos Alonso to enter the fray and he quickly became one of the most influential players not only in terms of defending but also attacking. His set piece ability was a revelation as he scored left, right and centre.
However, his height was also of significant use as his teammates saw him win headers in the box in the both halves. He scored some important goals including a brilliant header against Arsenal that saw Bellerin stay down.
The agile full back has however, come a long way since then. In Conte's second season, he started losing form and played in a number of poor performances. Then under new boss Maurizio Sarri, his reputation gave him the starting spot but he performed horribly and lost it to Emerson.
He is now slow and out of form and his a liability in defence. Without any discipline, he has been a nightmare for Chelsea now that they are back to a four man defence and Alonso at left back has been horrific.
4. David Luiz 1.89m (6 ft 2 in)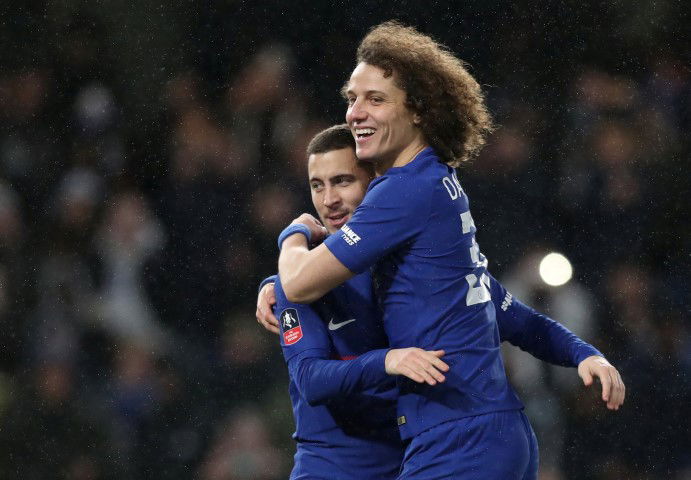 David Luiz is the fourth tallest Chelsea player at six-foot-two. Luiz was one of Chelsea's best players in the 2016-17 season, guiding the Blues to the Premier League title. But last season he fell out with manager Antonio Conte and lost his place in the team to young Andreas Christensen.
Luiz was injured for most of this season which was a shame. But the big Brazilian stayed at Chelsea and Antonio Conte left at the end of the season. It has worked out really well for him as he is now a reinvented man with excellent form under Sarri. He is a defensive mainstay and has excellent ball distribution skills which is an important aspect under Sarri.
3. Antonio Rudiger- 1.91m (6 ft 3 in)
Antonio Rudiger is a big, strong and athletic defender who stands at six-foot-three. The German defender often uses his height to win aerial duels and uses his strength to push strikers off the ball. Rudiger is also surprisingly fast for such a big man, with his long legs an advantage when sprinting to chase a striker who is through on goal.
Rudiger has been one of the better players this season and he has found his way into the team at the cost of Gary Cahill.
2. Olivier Giroud- 1.92m ( 6 ft 4 in)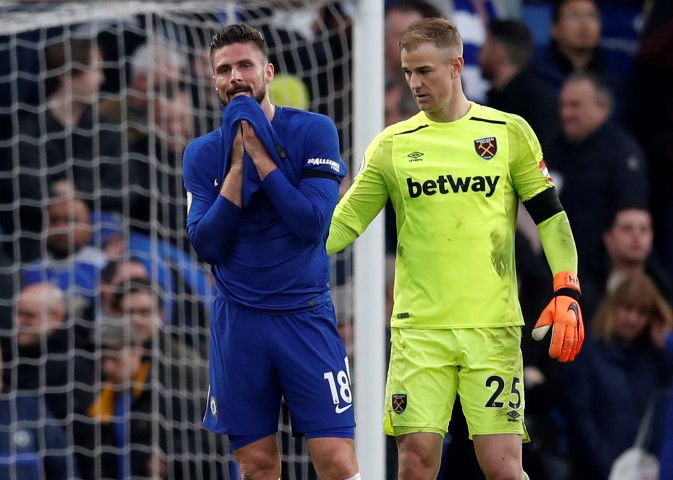 Olivier Giroud, a signing from Arsenal in January 2018, is one of the tallest Chelsea players. His big frame and height allows him to win balls in the air which helps him score all those headed goals. Giroud is also useful as a target man as the striker can hold off defenders with his physique and allow other smaller players time and space with the ball.
Olivier Giroud is one of the tallest strikers in the Premier League and the tallest striker at Chelsea.
1. Gary Cahill- 1.93m ( 6 ft 4 in)
Gary Cahill somewhat surprisingly comes in as first on the Top five tallest Chelsea players list. Cahill , a centre-back by trade- is tall even for a defender. Gary Cahill is one of the tallest defenders in the Premier League, coming in at 6 foot 4 inches.
The Englishman is usually good at defending corners and crosses with his height being an advantage when competing for a header. However, he is now on the verge of an exit this season.
Cahill often uses his height to defend but he can be prone to mistakes.
See also…
Top five worst Chelsea players this season 2017/18
Top five quotes about Eden Hazard
Top 10 Chelsea players with the most assists