Chelsea transfer rumors 2023 – Latest transfer targets and signings news!
Chelsea transfer rumors! Here we will talk about the latest transfer targets for Chelsea! Who has Chelsea signed? What is Chelsea transfer news? Have you heard of any Chelsea transfer rumors?
Chelsea transfer rumors – Chelsea transfer ban over?
Let us first talk about the Chelsea transfer ban as it is rather popular amongst Chelsea transfer rumors. It was imposed on the club back in 2019 January. It was designed to last two transfer windows – the summer of 2019 and 2020 January.
FIFA imposed the ban on the club after it found Chelsea guilty of underage player signings on multiple accounts. The transfer ban meant that Chelsea would be unable to sign any new players. However, the Blues were allowed to bring onboard the players they had signed prior to the ban – Christian Pulisic from Borussia Dortmund and players they had on loan already in their squad roster and only needed to be made permanent – Mateo Kovacic from Real Madrid.
The ban was contested by Chelsea last year and after appealing to CAS, they got it shortened from two to one transfer window. It meant that the Blues were ready to sign players come January 2020. There was a lot of anticipation around the signing of new players in January 2020.
However, the Blues did not sign anyone to the surprise of many people!
Chelsea latest signings news (Chelsea transfer rumors) – Who has Chelsea signed?
Another great source of Chelsea transfer rumors is who has Chelsea signed?
When the January 2020 window, shut close and Chelsea left as they came, many fans were surprised. Frank Lampard has indeed put together a good team. However, his young team needs new players, and Frank despite shortlisting many could not get his hands on anyone.
However, as January rolled into February, Chelsea surprised everyone with their first signing. February is not usually a time when you sign players but it was another signing done early and the player is now routined to join in the summer with the first-team squad.
The Chelsea latest signing is none other than Hakim Ziyech from Ajax. The 27-year-old left-footed winger has done amazingly well in the last two seasons and is the best creative player in the Dutch league by a mile. He has also had a profound impact in the Champions League and Chelsea got him on a steal for £33.4 million. 
Chelsea transfer rumors 2023
Let us now move into who the Blues might be looking to sign come summer. The transfer market is a tough place now. Luckily for the Blues, they did not spend a penny last season on any new player. It means Roman will unleash a rather heavy war chest. Some have reported that the amount is likely to be in the region of £300 million!
It will certainly be a huge advantage for Chelsea. So let us see who they are interested in signing. 
Defense – Chelsea transfer rumors
Let us start with defense obviously!
Goalkeeper – Gianluigi Donnarumma/ Andre Onana
The Blues are unhappy with Kepa Arrizabalaga in the goal. He has not lived up to the mark and the club-record signing for £72 million might be used in an exchange deal to land AC Milan's gifted goalie Donnarumma. He is expected to become one of the best in the world after bursting on the scene early and could be a perfect addition to Frank's Chelsea. Andre Onana of Ajax is another option. It is being believed, Lampard thinks Onana plays the Chelsea way and with Ziyech already coming, Onana can be another star who can be perfect for the Bridge. 
Centre Back – Kalidou Koulibaly/ Dayot Upamecano/ Jerome Boateng
This is a position where the Blues lacked a leader. With Cahill and Luiz leaving at the same time, the backline lacked leadership. We signed Thiago Silva but he will at best be a stop gap signing. Upamecano is a good player for the future but Chelsea needs someone who can take charge now. Boateng has plenty of experience but maybe past his prime. However, Koulibaly would tick all boxes and really take Chelsea to the next level. He will not come cheap though with Napoli last time asking for around £100 million for him! 
Midfield – Chelsea Transfer Rumors
This is where Blues have plenty of options so additions should be minimum.
Center Midfielder – Isco/ Declan Rice
The Blues have Mateo Kovacic, Jorginho, N'Golo Kante, Billy Gilmour, Ruben Loftus-Cheek, and Ross Barkley ready to fill in this role and Mason Mount too if need be. Hence, these are not priority signings. As for Isco, he is world-class and Chelsea despite not needing him, might go for him as he will increase the level and quality in that midfield. Declan Rice has expressed interest in playing with Chelsea star and his childhood friend Mason Mount again. He would indeed be a good addition, but then Chelsea would need to sell first!
Attack – Chelsea Transfer Rumors
This is another area of major concern for the Blues. Check out who is being lined up for transfer targets!
Left-wing, Right-wing Forward – Ousmane Dembele/Jadon Sancho/ Philippe Coutinho
Wingers will be of great importance to this attacking-minded Chelsea team. Right now they have Christian Pulisic, Callum Hudson-Odoi in their ranks with Hakim Ziyech lining up. Willian and Pedro have both left making space for another winger in the team. Philippe Coutinho is being seen as the most likely option with Frank Lampard a huge fan of the player.
He has already played in the Premier League and can be a star again. Ousmane Dembele has seen his career go wayward in Barcelona. However, at this young age a new start could do wonders for him. Especially with his youthful Chelsea team.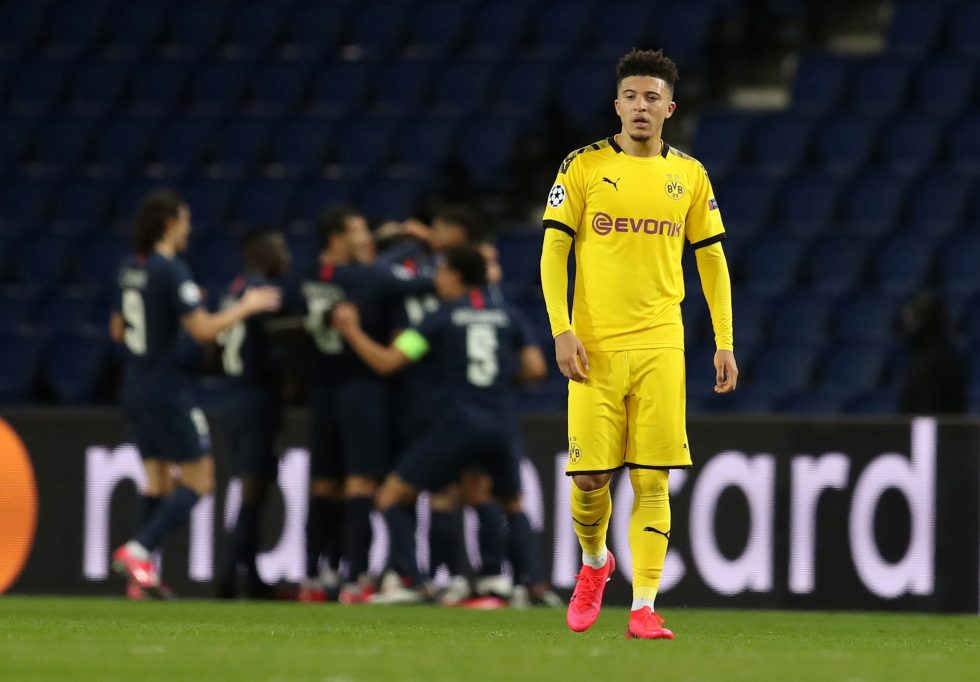 Jadon Sancho is the big prize money. He has a host of clubs on his tail with Manchester United believed to the lead. Sancho will almost definitely leave Dortmund this summer and is expected to break the British transfer record. Well, Frank does have money for that. 
Centre-Forward – Dries Mertens/ Moussa Dembele/ Lautaro Martinez 
Tammy Abraham has scored 19 goals all season for club and country. Despite this wonderful return in his first full season, there is a lot more Chelsea need. He needs someone to take the load off him.
With Giroud expected to leave and Batshuayi not in form for a long time and now loaned out to Palace, Chelsea is looking at options. Dries Mertens is a free agent and could be useful for a few seasons to Chelsea. Moussa Dembele was the big fish Chelsea wanted but could not get in January.
They could line him up again with a better offer. Timo Werner has been a fantastic addition but he prefers to play off the left more often.
The chase for Martinez will see Chelsea take on Barcelona who are seriously in need of a striker. Martinez will provide competition and could well displace Tammy up front!
Chelsea Latest Transfer Targets – Chelsea transfer rumors
Chelsea transfer rumors are reported via various media agencies, news sources, club sources, and players sometimes!
So these were our list of players who we feel could be on the Blues' radar for Chelsea transfer rumors. If Chelsea did even manage to get 2-3 of them, that would cap off a fantastic summer and the Blues under Lampard could be ready for a title challenge much sooner than we think. Do you think there are some other players Chelsea should try to sign? What about some transfer rumors you have heard of? Let us know!
See More: