Best Chelsea goalkeepers ever
Best Chelsea Goalkeepers ever? Which Chelsea FC goalkeeper is the best? Here we are ranking Chelsea's Premier League Best Goalkeepers ever. We rank the Chelsea Goalkeepers from the Worst Chelsea Goalkeeper ever to the Best Chelsea Goalkeeper ever.
Every team needs a good goalkeeper right? And every great team needs an even greater goalkeeper. Juventus- Buffon, Real Madrid-Casillas, Manchester United-Edwin Van Der Sar, are all goalkeepers synonymous with their teams. 
Chelsea, luckily enough, had a great goalkeeper during our dominant years- Petr Cech. The Czech Republic goalkeeper was a legend at Stamford Bridge until he moved on to Arsenal, but we forgive him for that don't we?
Best Chelsea goalkeepers ever
Over the years, Chelsea have had some other great goalkeepers since 1992 (the Premier League's inception).  So here we look at six of the Best Chelsea goalkeepers ever.
6. 

Best Chelsea goalkeepers ever – 

Henrique Hilario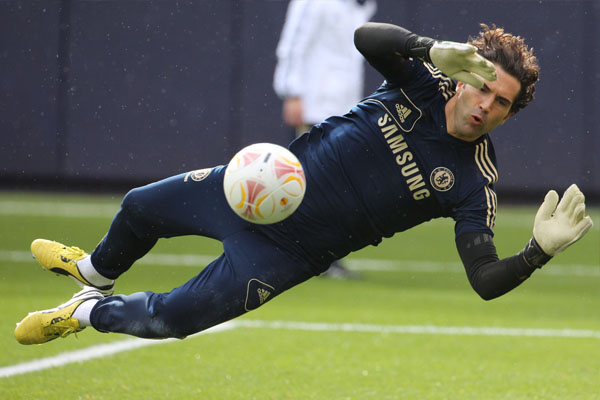 Chelsea Career: 2006-2014, 39 appearances.
Clean Sheets: 16+2
Percentage of CS/ appearances: 46%
Arriving in 2006 from Portugal, Hilario became a cult figure for the Blues-despite not having played much. Hilario joined Jose Mourinho having already played under him for Porto. He then became the third choice goalkeeper with Carlo Cudicini and Petr Cech being above him in the pecking order.
After both of Chelsea's first team goalkeepers were injured in an infamous match against Reading (which I still remember), Hilario became the first choice goalkeeper for awhile (out of necessity instead of choice). Petr Cech suffered a serious head injury after a Reading player ran into his head with his knee.
That is why Cech still wears that head gear to this day. And then after Cudicini came on, he got injured too, resulting in a comical moment in Premier League history when John Terry had to go in goal for Chelsea as they had no subs left to put Hilario on. But after that, Hilario featured in quite a few games, including an important clash against Barcelona where Hilario made a number of key saves.  
5. 

Best Chelsea goalkeepers ever – 

Dmitri Kharine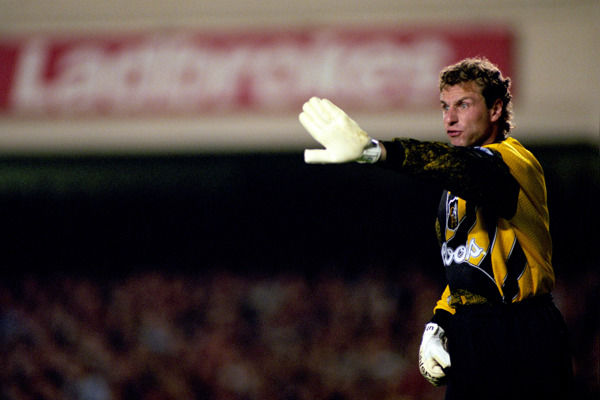 Chelsea Career: 1992-1999, 146 appearances.
Clean Sheets: 51
Percentage of CS/appearances: 35%
Dmitri Kharine was a cult figure for the Blues during 1992 and 1999 where he amassed 146 appearances. Called upon when needed, the Russian impressed, especially during the 1993/94 FA Cup campaign where they made the final. In the following season, Kharine guided the team to the Semi-Finals of the UEFA Cup. Kharine was part of a team that- during the 90's- were consistently fifth or sixth in the Premier League table and rarely were seen as a major threat to the likes of Liverpool and Manchester United. Boy have things changed since.  
4. 

Best Chelsea goalkeepers ever – 

Carlo Cudicini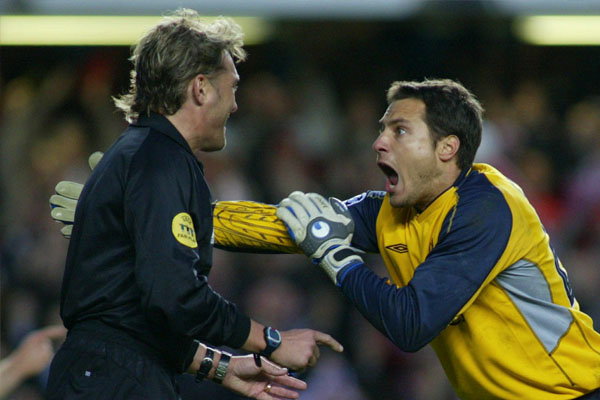 Chelsea Career: 1999-2009, 216 appearances.
Clean sheets: 96 +5 (Substitute CS)
Percentage of CS/ appearances: 47% (Highest percentage)
Cudicini is still regarded as one of the best Chelsea goalkeepers of all time. Despite consistent injuries that plagued him throughout his career, the Italian was a consistent starter for The Blues before Petr Cech arrived. And even after Cech arrived, Cudicini managed to hold onto his place for a while before Cech took over.
A bit like how Courtois slowly and gradually took over for Petr Cech when he arrived. History repeats itself. Carlo Cudicini arrived as a number two goalkeeper too, with Ed de Goey in goal for the first season Cudicini was there.
The Italian was voted Chelsea's player of the year in 2001/02. After that, things went downhill and Cudicini conceded his first team place to Cech after injury problems kept the Italian in the treatment room for large parts of the season in 2003/04. 
Chelsea offered Cudicini a job after he retired. He can be found sitting in the coach's section of Stamford Bridge just behind manager Antonio Conte now.
3. 

Ed de Goey – 

third of our b

est Chelsea goalkeepers ever list!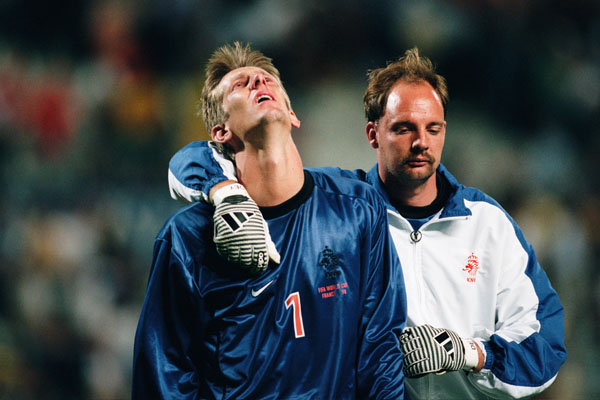 Chelsea Career: 1997-2003, 179 appearances.
Clean Sheets: 72 +1
Percentage of CS/ appearances: 41%
Ed de Goey is a legendary figure at Stamford Bridge. De Goey was there before the Russian billionaire took over in 2003 and is part of the Chelsea DNA during the 90's era. The Dutch international became Chelsea's primary keeper in 1997 after arriving from Feyenoord. He held the spot until Cudicini replaced him in the 00's.
Ed De Goey is one of the Best Chelsea goalkeepers ever. De Goey won the FA Cup in 1990, and broke various records such as most appearances and clean sheets. Eventually all good things come to an end though and de Goey found himself moving to Stoke City in 2003 after making 179 appearances for the Blues.
2. 

Thibaut Courtois – second of our b

est Chelsea goalkeepers ever list!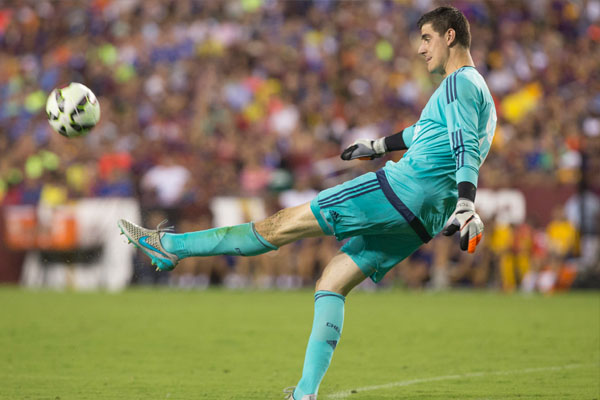 Chelsea Career: 2011-2018, 154 appearances.
Clean Sheets: 58
Percentage of CS/ appearances: 37.6%
Thibaut Courtois arrived at the Blues from Genk a bit too early for him to start matches straight away. The giant (six-foot-six) keeper was sent out on loan to Atletico in 2011. Madrid. Courtois spent three glorious years at Atletico Madrid where he established himself as the number one goalkeepers and also gaining a reputation as one of the best shot stoppers in the world.
Chelsea recalled him in 2014 despite Petr Cech still being there which caused a bit of a dilemma as to who they should play. The Solution? Well Cech and Courtois played together for one season where they took turns at playing.
Jose Mourinho finally realised that Courtois was better than Cech and that Cech was getting old. So he let Cech go to Arsenal meaning that Courtois would become the new Number 1. The rest, as they say, is history. 
1. Petr Cech – First place of our Best Chelsea goalkeepers ever list!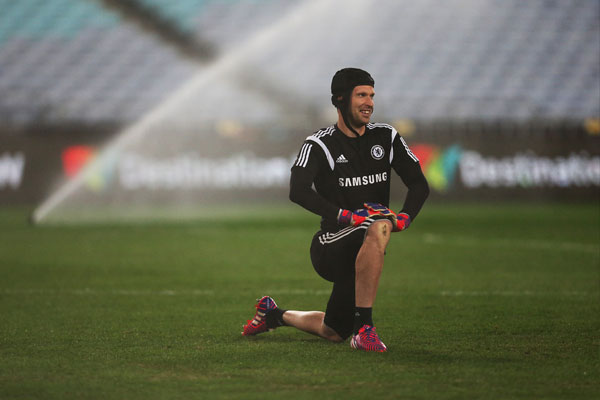 Chelsea Career: 2004-2015, 494 appearances. 
Clean sheets: 227 +1 (Substitute CS)
Percentage of CS/ appearances: 46%
Petr Cech stats and info 
It had to be Petr Cech in number 1 right? Petr Cech is our number 1 of our Best Chelsea goalkeepers ever. The Chelsea legend called time with his beloved club in 2015 after making an astonishing 494 appearances for the Blues during the Roman Abramovich era.
The Czech Republic international became one of the Premier League's greatest goalkeepers, and won every trophy available during his time at The Blues. Cech was the ever present and reassuring presence at the back for Chelsea. The defenders never had to worry about him and he was a natural leader. You could often see him shouting at the players, arranging the defence and leading from the back.
A trait that some may say Courtois doesn't have. As mentioned earlier, Cech suffered a suffered a major skull fracture in a game against Reading, sidelining him for months. Cech still, to this day, wears that head gear around his head to protect himself from another potential head injury.
Cech suffered a major brain injury and still managed to recover.  He got back on the field in a matter of months, which is amazing. Most people who suffer from head injuries can take years to recover from.  
Petr Cech has the record for most consecutive clean sheets in the league. Cech had ten Clean sheets in 2004/05 in a row. He played 1024 minutes without conceding a goal.
SEE ALSO: