Why did Christian Pulisic decide to leave Chelsea?
Christian Pulisic was considered the golden boy, the future of football in the United States. He started his professional career in Germany with Borussia Dortmund. He made 127 appearances with BvB before he attracted attention from all across the globe. There was a lot of gossip around where he would end up, but in the end, he chose Chelsea. He moved for a reported fee of £58 million. He has had a solid career at Chelsea, winning a Champions League, UEFA Super Cup and FIFA Club World Cup with the club but no League titles, so two questions remain. Firstly, was the investment worth it for Chelsea? Why would he want to leave Chelsea with rumours flying that he has agreed terms with AC Milan?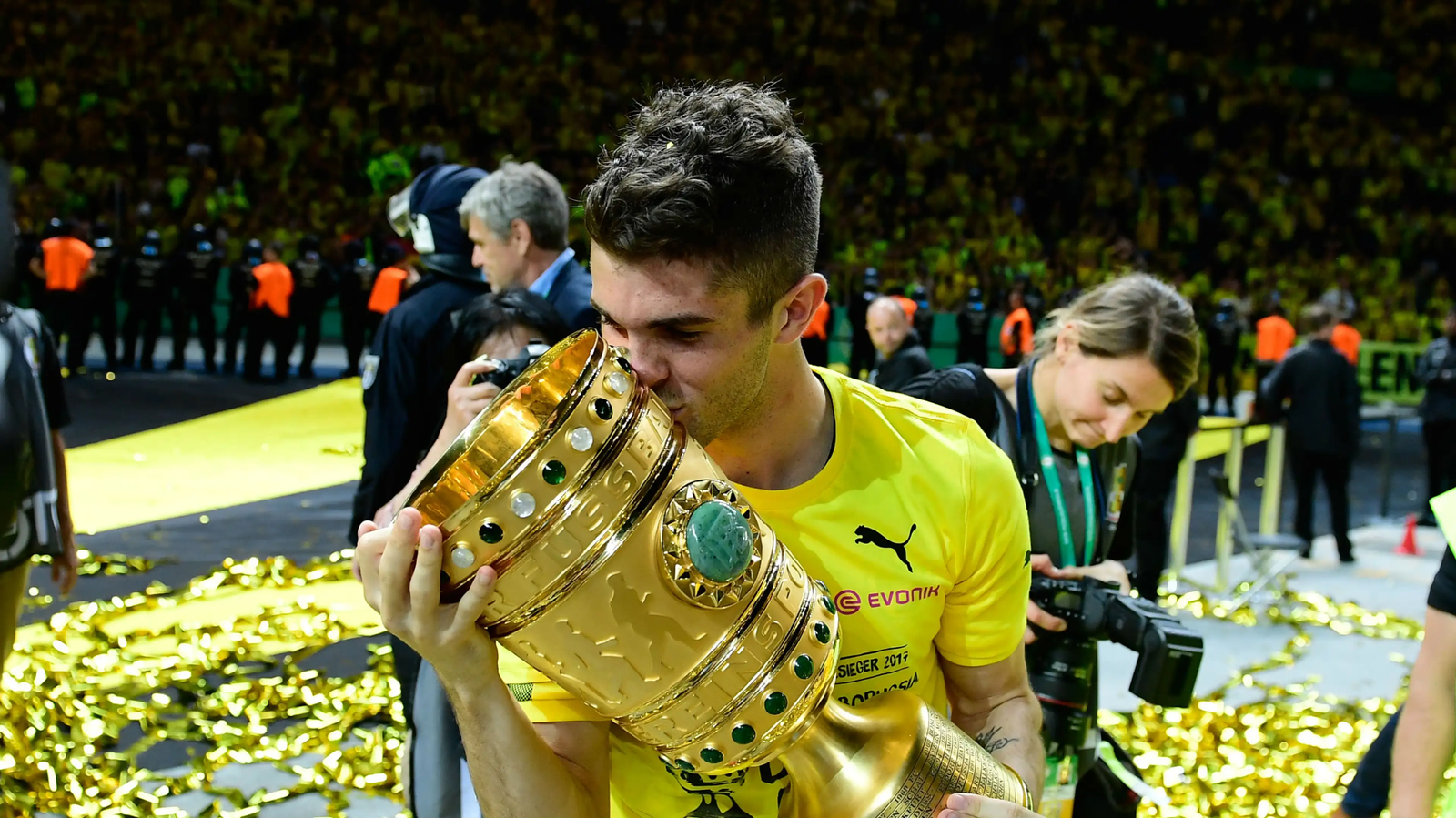 Christian Pulisic with the DFB Pokal trophy which he won with Borussia Dortmund

Before we get to work answering both of those questions, I want to look at his stats from his tenure at both of these European giants.
| | | |
| --- | --- | --- |
| Stat | Borussia Dortmund | Chelsea |
| Appearances | 127 | 145 |
| Goals | 19 | 26 |
| Assists | 26 | 21 |
| Minutes Played | 7,494 | 8,020 |
| Goals per 90 minutes | 0.15 | 0.22 |
| Assists per 90 mins | 0.25 | 0.19 |
| Goals + Assists per 90 mins | 0.36 | 0.48 |
For an attacking midfielder, Pulisic stats aren't too bad. But for a player that is sometimes utilised as a winger, they aren't particularly great really are they? His goal scoring rate increased at Chelsea. However given the striker woes Chelsea have faced in recent years it's understandable that his assists per 90 has gone down. If the likes of Werner, Lukaku, Aubameyang could've hit the net, that number could've been sky high. We're talking about incredible, world class strikers that for some reason, just couldn't get things going at Chelsea. They were surrounded by solid players who could provide, but somehow they couldn't find the net. So, while his assists per 90 may be lower at Chelsea, in a different universe, playing alongside those strikers it could've been as high as 0.5 per 90, or even more!
But when you pay £58 million for a player, would you consider that good value? His all round play still contributed to a solid year in European competition, winning what could be considered a European treble of the Champions League, Super Cup and Club World Cup. But with no domestic trophies to his name in his stint, can you really say he was worth the money? Runner up in the FA cup 3 times and runner up in the EFL cup once and their best finish in the league being 3rd with him in the team, it probably isn't how he would've hoped things would turn out.
So why would he want to leave? Well, firstly he wants to play more regularly. Pulisic has not been a regular starter for Chelsea in recent seasons, and he is looking for a club where he can play more often. The rumour mill is saying AC Milan, with them being a Champions League club, and looking to challenge for the Serie A title. Pulisic believes that he can be a key player for Milan, and he is hoping to get more playing time. Not only that but he has been with Chelsea for 3-4 years now and wants to experience a new league. Pulisic has played in the Bundesliga and the Premier League, and he is now looking to experience a new league. The Serie A is a very competitive league, and Pulisic is excited to test himself against the best players in Italy.
With all that being said, it's time to look forward since we're in the summer and the transfer window is officially open. Where could Pulisic end up next season? We've got around a month and a half before the new season kicks off. Today, we're going to look at a few of the teams that Pulisic has been linked with and see which of them make sense and they all kind of make sense for different reasons. To start with we're heading to Merseyside with Liverpool.
For this segment, all of our odds to figure out how likely these transfers are have been gathered from the best US betting sites. Which makes sense in the same way this transfer would make sense. Pulisic is currently 18/1 to join Liverpool and while that's a stretch, it makes sense for the American-owned club. They've had players like Takumi Minamino to appeal to an Asian market, plenty of South Americans but nobody to appeal to the US market and he would sell a lot of shirts in the States. Next, he's 14/1 to join Manchester United, this one makes sense purely because he's the kind of player they seem to look for, but with players like Anthony in the wide positions and having just signed Mason Mount, it's very unlikely he'd get the play time he's after with United.
Then there's Newcastle, he's 5/1 to join the magpies, but would he get the play time he wants? Well, there have been lots of rumours surrounding the future of Bruno Guimaraes. While Newcastle fans would be distraught with his departure, being replaced by Pulisic wouldn't be the worst thing in the world and he could absolutely do a good job there. While he could also get time out wide for Newcastle, they have an abundance of left wingers meaning he can't really play that side, nerfing his ability to cut in from the left onto his right. However if he wanted to play on the right his only real competition is Miguel Almiron. With Newcastle also being a Champions League club, they could certainly turn his head.
Finally, the last club I want to talk about is AC Milan. Pulisic is quite heavily linked with the Rossoneri and at 3/1 that's the bookies favourite team for him. This one makes the most sense because of the guaranteed play time after Sandro Tonali's departure and the fact it's a completely new challenge. He has won trophies in Germany and England, so it would make sense to move to greener pastures, right? As we mentioned earlier, AC Milan are in the Champions League and are looking for their first win since 2007. Not only that but after a poor run in the league in the last decade or 2, they'll be hoping Pulisic can help take them to the next level. Rumours are stating that the final details are being ironed for a 22 million euro deal to Milan. A front 3 with Pulisic and Rafael Leao either side of a pacey striker could be absolutely deadly!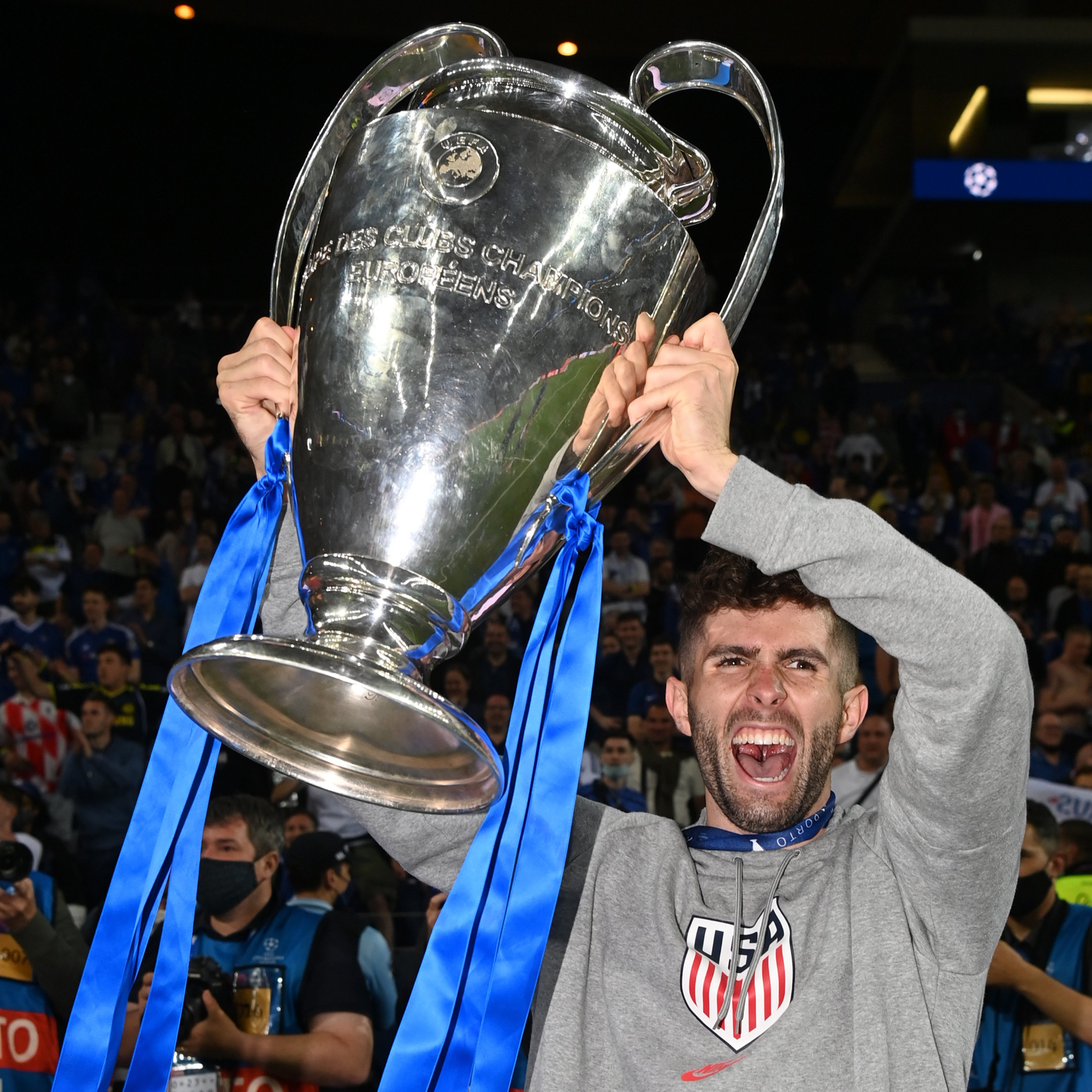 The big one, the UEFA Champions League which Pulisic won with Chelsea. Pulisic was the 1st American to appear in a European Cup Final and win the European Cup
So, Chelsea fans. Do you think Pulisic lived up to the hype and his price tag for Chelsea? Will you be sad to see him go or will you be glad to see the back of him? I personally think he could've done more for the club, perhaps he wasn't utilised in the right way. You can't say it was because of the talent around him because he has been surrounded by superstars, even if they haven't been performing. Maybe he just needed the right manager to bring out his best? One thing is for sure, he has a lot of potential and it's probably best for Chelsea if he doesn't stay in the Premier League, he'd be guaranteed to come back to haunt us otherwise!
See More: