Chelsea FC
Highest transfer fees received
Who are the Chelsea most expensive departures ever? Chelsea most expensive departures 2023? Chelsea have signed some great players in the past but they have also sold some great players too.

So who makes the Chelsea most expensive departures list? Well, read more to find out!
Top 10 Chelsea most expensive departures ever?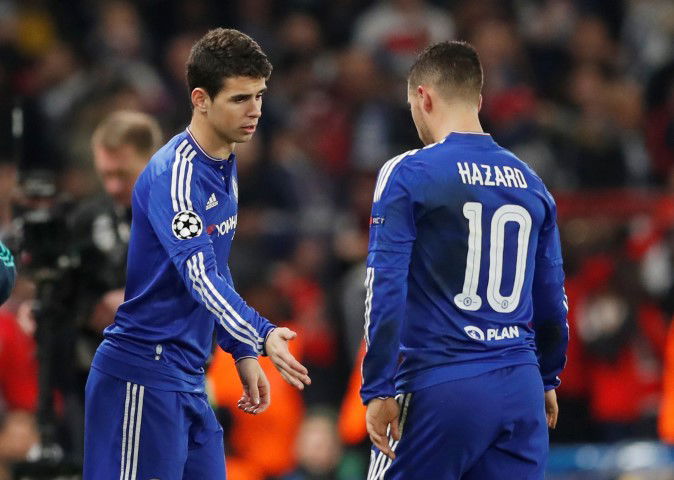 Chelsea FC Highest transfer fee received ever? Which player has made Chelsea the most amount of money in their sale? Well, Hazard has made Chelsea the most amount of money after his sale to Real Madrid for €115m.
#
Player
Nat.
Season
Joined
Fee
1
19/20

Real Madrid
 LaLiga

€115.00m
2

Kai Havertz
Attacking Midfield

23/24

Real Madrid
 LaLiga

€70.00m
3

Mason Mount
Attacking Midfield

23/24

Real Madrid
 LaLiga

€64.20m
4

Diego Costa
Centre-Forward



17/18

Atlético Madrid
 LaLiga

€60.00m
5


16/17

SH SIPG
 Super League

€60.00m
6


14/15

Paris SG
 Ligue 1

€49.50m
7

Juan Mata
Attacking Midfield

13/14

Man Utd
 Premier League

€44.73m
8

Nemanja Matic
Defensive Midfield



17/18

Man Utd
 Premier League

€44.70m
9

Tammy Abraham
Centre-Forward



21/22

AS Roma
 Serie A

€41.00m
10

Romelu Lukaku
Centre-Forward



14/15

Everton
 Premier League

€35.36m
Chelsea most expensive departures
Diego Costa's falling out with coach Antonio Costa and his love of Atletico Madrid forced his sale through. But Conte is also to blame for losing him after his blunt text message to the Spanish striker. The text caused a massive backlash throughout the team and the media.
The sale that irritated me the most though was the sale of Nemanja Matic to Manchester United for £40 million. It wasn't just the fact that we lost him due to Bakayoko. But it was the fact we sold him to Manchester United.
Eden Hazard
The Belgian forward became Chelsea's most expensive player sale when he joined Real Madrid for an astounding sum of €115m. Hazard developed into a world-class forward and made over 350 appearances for the Blues. Although he struggled in his four-year spell with Real Madrid he will forever be remembered as a certified Chelsea legend.
Mason Mount
The Chelsea academy graduate won the Club's Player of the Season in 2020 and 2021 and has been pivotal for the club's success in recent years. He struggled with form and fitness in the 2022/23 campaign and decided to join Man United in the summer.
Kai Havertz
The German playmaker scored the winning goal in the 2021 Champions League final against Manchester City. Havertz has occasionally shown flashes of brilliance and as a result, he was sold to Arsenal this summer in a deal worth €70m.
Tammy Abraham
Another Chelsea academy product who was a regular under Frank Lampard struggled for game time following his departure. He ended up moving to Serie A side Roma in the summer of 2021 on a permanent deal. Tammy ended up scoring 27 goals in his debut season with the Italian giants.
Romelu Lukaku
The highly-regarded striker has had two spells with the West London club. After struggling to make his mark at Chelsea since 2011, the club decided to sell Lukaku to Everton on a permanent deal in the summer of 2014. But the forward then returned to Chelsea in 2021 after having some unsuccessful spells at Manchester United and Inter Milan.
Juan Mata
The sale of Juan Mata to Manchester United hurt too. Mata was one of my favourite players and he was sold to United. It's too bad we have lost both Oscar and Mata. As they were part of the exciting three-pronged attack at Chelsea with Eden Hazard. But after Jose Mourinho returned to Chelsea, it was clear he wasn't keen on Mata and so he sold him. Ironically enough, Jose Mourinho was then at Manchester United managing Juan Mata. Football is a funny game at times- you couldn't write this!
But perhaps most of all- I was upset by the sale of Arjen Robben all the way back in 2007. He was my favourite Chelsea player at the time. But he was plagued by injuries and Mourinho is not keen on players who are injury-prone.
Nemanja Matic
He joined Chelsea twice. Once as a teenager when he played for the club but never managed to make an impact. Next time he was brought in by Jose Mourinho as a holding midifelder and nicknamed the spider for his lanky legs. This time around he won two league titles with the team and was a mainstay in the Chelsea side.
He also won the League Cup and was formidable under Mourinho alongside Cesc Fabregas and then later under Antonio Conte alongside N'Golo Kante. However, Chelsea could not hold on to him as the club strangely decided to sell him to arch-rivals Manchester United to the dismay of Antonio Conte.
Diego Costa
This move hurt the Chelsea fans very much. Costa spent three years at Chelsea, winning the league twice for the Blues. He scored over 20 goals in each of those title-winning campaigns as he helped the Blues to great glory.
However, under Antonio Conte's title-winning season, he fell off with the team boss and wanted a move to China in January. Conte handled the situation well by keeping Costa and making him fire more goals.
However, to the shock of every Chelsea fan, suddenly in the summer, Conte "messaged" Costa telling him he is no longer required at Chelsea. This saw a massive saga break open at Chelsea leading to Conte losing the dressing room eventually and then finally his job.
Conte should have been smarter and Chelsea would not have had to waste record money on Morata who as it turns out flopped big time. We are still struggling for a forward, all thanks to Conte's ingenious ego which left the club's forward line in shambles.
David Luiz
The prodigal son has returned home after spending two years in PSG, winning the league and getting bored of the lack of a fight in that one-sided league. He helped Chelsea win the title since his return and has been a mainstay in the new-look Chelsea defence this season under new boss Maurizio Sarri.
His buying, selling and returning to Chelsea saw the Blues do a good bit of business on a player who has given the club over 200 solid appearances.
Oscar
He was brought along with Hazard as a special talent and delivered a title-winning performance under Mourinho in 2014-15. However, after that, he lost his way and Conte made little use of him, frustrating the player and forcing him to leave for China!
The rest of the sales speak for themselves. But let us know which sale upset you the most in the comments below.

SEE ALSO: