The discovery of young talent is vital for football, especially in the Premier League where the competition is, for lack of a better word, fierce.
Chelsea has been great at it, it seems, because it is preparing to push not one but two young and talented teenagers into the first team, with both of them making their first start in the Blues' match against Krasnodar.
When new talent steps on the turf, it's hard even for the professional predictors of the Betway soccer betting servicer to evaluate his prospects. And this says a lot: after all, the tipsters over at Betway are tasked with correctly predicting the outcome of any sporting event all over the world. As you might expect, they are doing a great job at it. But even they will have to wait and see how youngsters behave themselves among the "big names" in a few games.
Who are the two big unknowns, the teens who made their first start against Krasnodar, and where do they come from? Let's take a look at them today.
Billy Gilmour
Chelsea added young midfielder Billy Gilmour to its squad last year when the wunderkind graduated the club's youth academy. Between 2009 and 2017, Gilmour played and trained with the Rangers F.C. in his native Glasgow where he progressed fast – fast enough for him to make his debut in the club's under-20 development team in 2016, at the age of 15, and being invited to train with the first team just a month later. Rangers manager Pedro Caixinha described the youngster as having a bright future and tried to convince him – and his parents – to stay with the club.
Caixinha obviously didn't succeed as the youngster left Glasgow for Fulham following his 16th birthday. He joined the club's under-18 squad, quickly scoring a goal in a U-18 match against Arsenal. He did great in his subsequent matches and soon scored a professional contract with Chelsea soon after turning 17. He made his senior debut in a pre-season friendly against Dublin's Bohemians and came on as a substitute in a UEFA Super Cup match against Liverpool later in the year. Last August, he made his debut in the Premier League.
Gilmour is an official, permanent member of Chelsea's first team since February, wearing the number 23 jersey since September.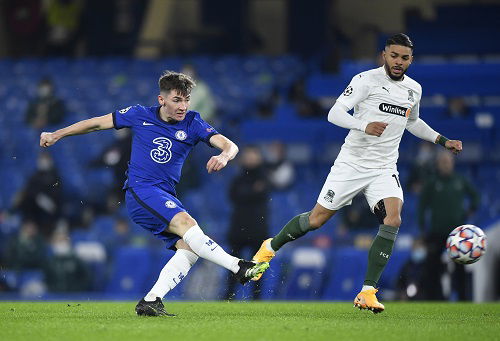 Tino Anjorin
Faustino Adebola Rasheed Anjorin, known simply as "Tino", is at the very beginning of his career with Chelsea's senior team – but he is already starting to make a name for himself. Born in Poole, England, he is Nigerian on his father's side, thus eligible to play for Nigeria's national team, the Super Eagles. Still, he is yet to play with them – so far he has only made appearances with England's youth teams – from where he stood out, and not just because of his stature (he is 6 feet 1 or 186 cm tall). Anjorin has been described as a very talented young player and praised for his form, sight, and ball control, and was called "next Ruben Loftus-Cheek".
The youngster joined Chelsea at the age of six and signed with the team before turning nine. After an impressive goal in Chelsea's 2017–18 FA Youth Cup win against Arsenal, he made his debut with the seniors in the EFL Cup.
See More: Chelsea FC U-21 Team 2020