Top five most valued Chelsea players with the highest market value 2018-19
Top five most valued Chelsea players? Who are the Top five Chelsea players with the highest market value? Here we take a look at the top five Chelsea players who are worth the most. Which Chelsea players are worth the most amount of money in the transfer market?
Eden Hazard market value? Kepa market value? Are you interested in learning Cesar Azpilicueta's market value too? Here we look at Chelsea's best players and their market worth. How much can Chelsea sell them for?
You can probably guess that players such as Eden Hazard and N'Golo Kante will be worth a lot. But do you know how much they are worth? Different factors such as age, position, and attitude can contribute to a players value, while their contract length is probably one of the more significant factors. Players with a short contract are usually worth much less than players with a 5-year contract.
Here are the top five most valued Chelsea players 2018-19
5. Cesar Azpilicueta- £40 million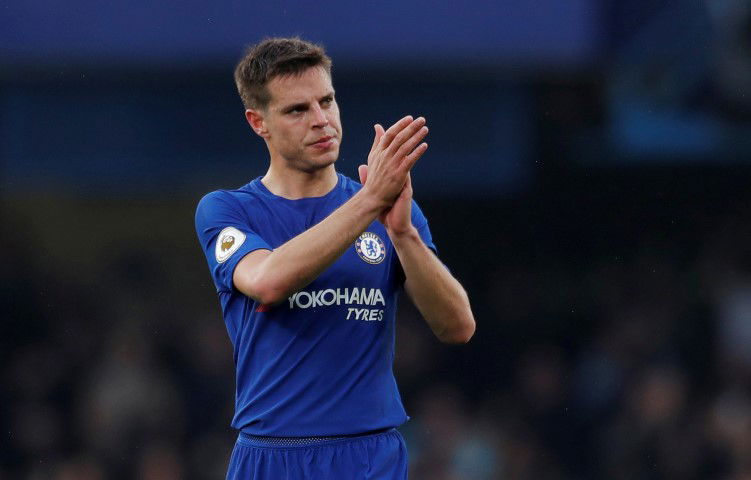 In my opinion, Cesar Azpilicueta should be worth around £100 million. He is our most consistent Chelsea player in the squad, and is our true captain (even though officially Gary Cahill is). Azpilicueta lives and breathes Chelsea, and is one of the few players in the current squad who actually cares and fights, and resembles Chelsea's winning warriors from years ago with the likes of Ballack and Drogba.
Signed from Marseille in August 2012, weeks after representing Spain in the London Olympics, Cesar Azpilicueta soon emerged as a first-choice right-back. His ability to suppress opposition wingers immediately impressed, along with his dependability in possession and increasing willingness to join the team's attacks.
A strong beginning to life at Stamford Bridge earned Azpilicueta – affectionately known as 'Dave' by team-mates and supporters alike – a first call-up to the full Spanish national team in early 2013, and he ended his first campaign in Chelsea blue with 48 appearances.
He has since proven capable of playing left-back and as one of a back-three defence, and ended his second season at the club by winning the Chelsea Players' Player of the Year award. He won his first Premier League title in 2015.
4. N'Golo Kante- £100 million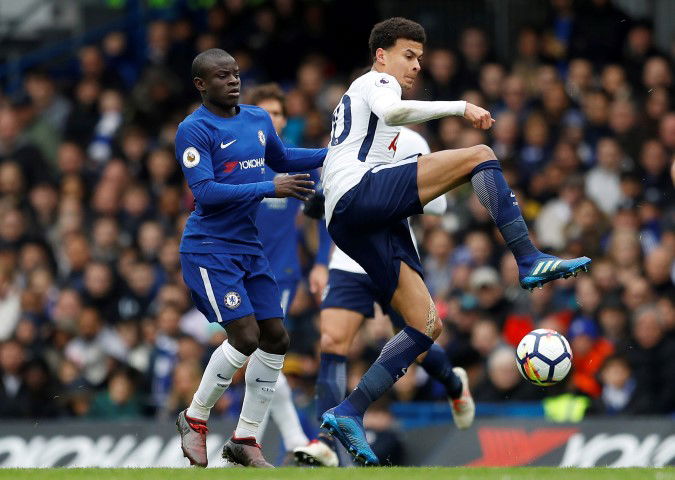 Again, I think this Chelsea player should be valued even higher. He is unique in his position. N'Golo Kante won the PFA player of the year award last to last season for helping Chelsea to win the Premier League title. He is easily one of Chelsea's best players, and I'd wager he's actually our best. I think Kante should be valued at around £150 million.
N'Golo Kante was a major addition to the squad for the 2016/17 season, signing a five-year contract for Chelsea.
Kante joined from Leicester City, where he so memorably played a major part in the Foxes' Premier League triumph the previous season. The then 25-year-old came close to adding to that success on the international stage soon after. He was part of the France squad that was denied a host-team triumph at Euro 2016 by an extra-time Portugal goal in the final.
He arrived at Chelsea with a Premier League winners' medal and eight international caps to his name, and was selected for the first game of the 2015/16 season, a win at home to West Ham.
Picking up where he had left off at Leicester, Kante was a mainstay of Antonio Conte's team in the first half of the campaign, memorably scoring the fourth and final goal in a big win over Manchester United in October 2016.
A match that typified his energy and contribution was an away draw at Anfield in January 2017 when he won a remarkable 14 tackles out of the 16 he went in for. The next best player the statistic that night won three.
3.Kepa Arrizabalaga- £55 million

Kepa Arrizabalaga signed for Chelsea from Athletic Bilbao on 8 August 2018
The 23-year-old Spanish international goalkeeper arrived ahead of the 2018/19 Premier League season having signed a seven-year contract at Stamford Bridge.
Kepa, who has played over 100 career league games, has solid experience at the highest level having made more than 50 appearances in La Liga, his quality earning him a call-up to the Spain squad for this summer's World Cup in Russia.
Upon completing his move to Chelsea, he said: 'It's a very important decision for me, for my career, and also for my personal life.
'So many things attracted me to the club, all the titles the club has won, the other players, the city, the English Premier League. It's an accumulation of things, and I am very glad Chelsea has decided to trust me and to take me in as well.'
Director Marina Granovskaia added: 'Kepa is a talent we have admired for a long time and we are extremely excited about his arrival. He has already demonstrated fantastic quality and consistency and will be a big part of any success Chelsea have in the coming years. His long-term contract reflects the belief we have in him and we look ahead to the coming seasons with an enormous sense of optimism.'
Quick and agile, Kepa possesses fantastic reflexes and has developed his all-round game since establishing himself as Athletic Bilbao's first-choice 'keeper two years ago. A great shot-stopper, he is confident with the ball at his feet and capable of playing out from the back, even under pressure.
2. Alvaro Morata- £60 million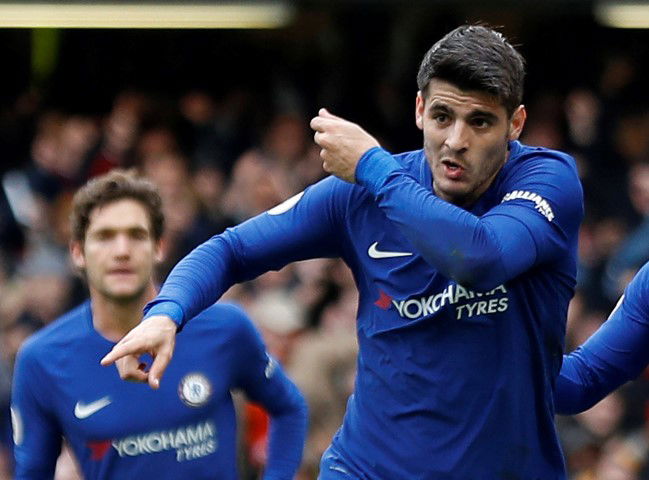 Alvaro Morata completed a transfer from Real Madrid to the Blues on 21 July 2017. A strong, quick and skilful forward adept at leading the line and bringing his team-mates into play, Morata's movement on and off the ball make him a constant threat to opposition defenders, whether he is running at speed from deep or looking to strike in the 18-yard box.
He made his Chelsea debut as a substitute in the Community Shield against Arsenal in August 2017 and scored his first goal having come on at home to Burnley in the next game, albeit in a defeat. Further goals in wins against Everton and Leicester meant his first three for the club were all headers but that was followed by a fine hat-trick off the boot at Stoke in September 2017.
Morata started our opening-day win at Huddersfield and scored his first goal of the season in the 3-2 home win over Arsenal a week later.
The striker scored three goals in four appearances throughout October, including the only goal of the game against MOL Vidi in the Europa League, and the opener in a 4-0 win at Burnley. A Morata brace then helped us to a 3-1 win over Crystal Palace.
It was Morata who ensured our defence of the FA Cup began in the perfect manner as he scored both goals in a 2-0 third-round win over  Nottingham Forest.
However, his form has been inconsistent and he has currently been loaned out by Chelsea.
1.Eden Hazard- £150 million (Number one of our Most valued Chelsea player)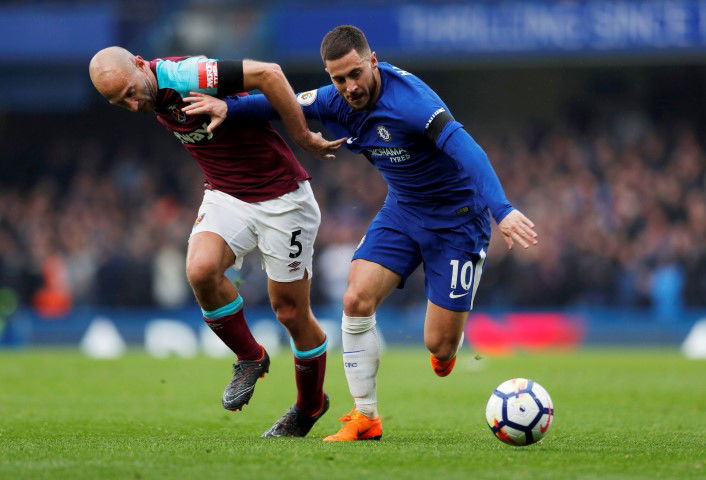 The most valued Chelsea player in the squad. Eden Hazard, on his day, is the best player on the pitch by far. But the problem is, he often isn't on 'his day'. Hazard seems to disappear at times when Chelsea need him the most, and he has failed to improve upon his last season when he was very good.
So what can he do next season? Well if Chelsea sign some better players around him, then he would improve. Hazard is taking the brunt of the opposition defences this season, as when Willian isn't on form, Chelsea have no other deadly attackers.
Hazard, in my opinion, is worth around £180-200 million.
See also…
Top five worst Chelsea players 2017/18
Top 5 players that never made it at Chelsea