Thomas Tuchel Chelsea manager is official now!
Thomas Tuchel has been hired to become the current Chelsea boss. The news for Thomas Tuchel Chelsea manager came a day after Frank Lampard, the club legend was let go of by the Blues recently.
Tuchel, who has signed an 18-month contract with the possibility of an extension, said: 'I would like to thank Chelsea FC for their confidence in me and my staff.
'We all have the greatest respect for Frank Lampard's work and the legacy he created at Chelsea. At the same time, I cannot wait to meet my new team and compete in the most exciting league in football. I am grateful to now be part of the Chelsea family – it feels amazing!'
Director Marina Granovskaia added: 'It is never easy to change Head Coach in the middle of the season but we are very happy to secure one of Europe's best coaches in Thomas Tuchel. There is still much to play for and much to achieve, this season and beyond. We welcome Thomas to the Club.'
So let us find out more about Thomas Tuchel Chelsea manager!
Teams coached – Thomas Tuchel Chelsea manager
PSG – Thomas Tuchel Chelsea manager
Thomas Tuchel has been in charge of PSG until late last year. The manager looked over the likes of Kylian Mbappe and Neymar! He won back to back league title and one domestic trophy.
In Europe, he took the PSG team to the finals of the tournament last season. However, he fell apart with the club bosses and it led to his sacking earlier last year.
Borussia Dortmund – Thomas Tuchel Chelsea manager
Tuchel was given the reins of a Dortmund team with a lot of potential but in a bad run after Jurgen Klopp had left the team. He took over the young team, gave them a new attacking football identity, played lots of youngsters and challenged Bayern Munich for the title.
There also, however, he fell apart with the club hierarchy after two seasons.
Mainz – Thomas Tuchel Chelsea manager
He was in charge there as well after Klopp left Mainz. He did a good job by bringing dynamic football. He finished 7th with them giving Mainz a taste of European football as well.
Manager History – Thomas Tuchel Chelsea manager
Thomas Tuchel history by clubs – Thomas Tuchel Chelsea manager
Team
From
To
Record

M

W

D

L

Win %

FC Augsburg II
1 July 2007
30 June 2008

34

20

8

6

58.82

Mainz 05
3 August 2009
11 May 2014

182

72

46

64

39.56

Borussia Dortmund
29 June 2015
30 May 2017

108

68

23

17

62.96

Paris Saint-Germain
14 May 2018
29 December 2020

127

95

13

19

74.80

Chelsea
26 January 2021
present

0

0

0

0

—
Total

451

255

90

106

56.54
Net Worth and Salary – Thomas Tuchel Chelsea Manager
He become one of the most generously compensated football chiefs in France Ligue 1 subsequent to marking augmentation manage (Paris Saint-Germain) football club. As indicated by reports, he getting paid €6.5 million for the main year at club and from June 2020-21, as football news sources announced his compensation increment (€2.5 million). Be that as it may, prior to joining PSG on record pay bargain, he oversaw top football club like (Borussia Dortmund and Mainz 05).
Thomas Tuchel Base Salary (€8.5 million) : As numerous sources detailed that Tuchel will got 2 million extra compensation for forthcoming season, he will procure yearly compensation upto (€8.5 million) which bring him among world top 10 paid football supervisors. His past season revealed month to month wage (€480,000). He still with the club his impending season compensation ascend to (€550,000) in view of his agreement with club which is accounted for a year ago in 2019.
The subtleties dependent on Thomas Tuchel month to month compensation and agreement base compensation accumulated from confided in sources. In the event that he moved to another club or broadened his agreement with club for additional years in France Ligue 1 subtleties will be given here. Now he is at Chelsea where he is expected to getting a similar salary.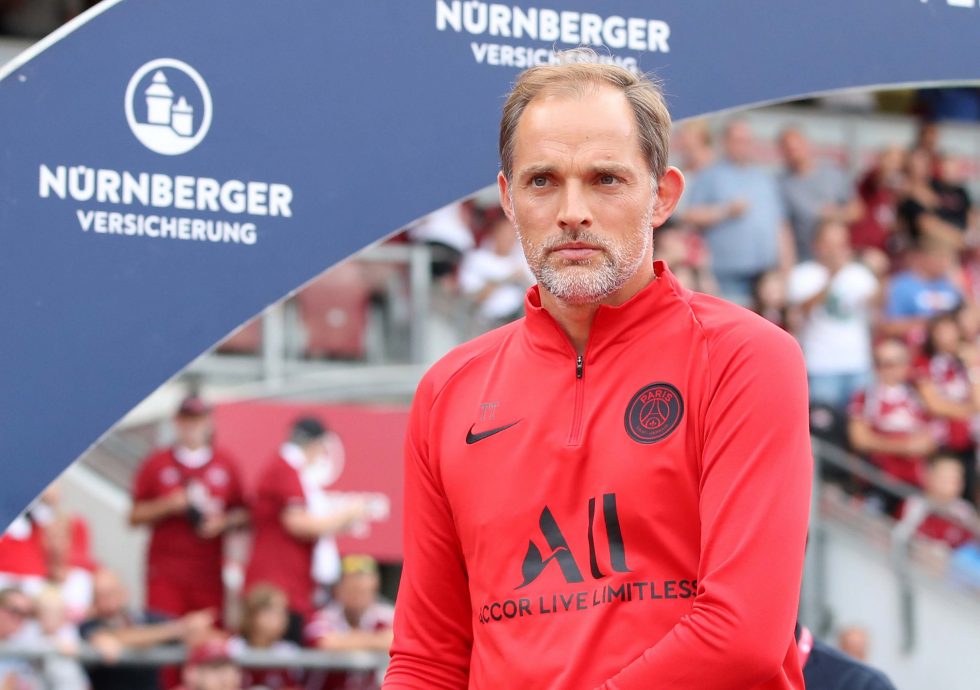 Thomas Tuchel Wife – Sissi Tuchel – Thomas Tuchel Chelsea manager
In spite of the fact that she's not engaged with footballing choices, Sissi Tuchel is supposed to be a tremendous help to her better half of 11 years.
It is accepted she has a major say on his profession decisions, where he decides to oversee and goes about as a sounding board for him, at the most critical moment.
At the point when it went to his excusal at Dortmund in 2017, Sissi purportedly visited Paris the late spring before to look for a permanent place to stay for them to live in with their two little girls in front of his arrangement at PSG.
Tuchel and Sissi are infrequently found in open together, liking to disregard the spotlight.
Presumably she has just investigated a day to day existence in London for the family.
See More: Chelsea Managers News: list of Chelsea mangers history list!