5 Things You Didn't Know About Kepa Arrizabalaga
Kepa Arrizabalaga, also simply known as Kepa, is Chelsea's goalkeeper. He is a Spanish footballer and started playing for Chelsea in 2018, and was with Athletic Bilbao before that. Ever wondered if there was more to Kepa Arrizabalaga than just being Chelsea's goalkeeper? Here's your chance to find out 5 things you didn't know about Kepa Arrizabalaga!
1. Kepa Arrizabalaga Is A Local Talent
Athletic Bilbao was known for taking in local footballers and scouting talent within the Basque region. And incidentally, Kepa was one of the talents they scouted. He grew up as a small-town boy in Ondarroa in the Basque Country. At the age of nine, Kepa joined Athletic's academy and started training there. 
"Kepa was in Athletic's youth academy since he was nine or 10 years old. He was always seen as a future goalkeeper for the club, a boy from Ondarroa, a small town in Biscay. The club has its own idiosyncrasy and philosophy about football [using only players born or raised in the Basque country]," said Andoni Goikoetxea – Athletic's former defender, about Kepa Arrizabalaga.
2. Kepa Arrizabalaga Can Teach Birds How To Sing!
Who said Kepa's only passion is football? Another passion of his is scouting birds and bringing them with Papa Arrizabalaga. He hunted a bird known as 'goldfinch' and brought them up with his father. What's more, he would train this North-American bird variety to sing some tunes!
"My obsession with birds started with my dad," Kepa told Tribuna.com at an Adidas event in London. "Since I was little we always had birds at home and they turned into my hobby. It's because we always had them at our house just like others usually have dogs, birds or fish. Since I was little, our birds always got my attention because of my fondness for them. I've tried to help my dad look after our pets and cleaning after them. I always liked having them around and I think it was a very healthy hobby.
"There was nothing really difficult in looking after them. Every day I had to feed and clean them as well as give them my love. And it was great company for me."
Three of Kepa's birds – Oker, Rocky and Raikkonen – went on to win competitions too – twice! Once in 2008 and another in 2010. Who knew?
Here's his interview in Spanish!
3. He's The World's Most Expensive Goalkeeper
There's no disputing this one. The Blues badly needed a new goalkeeper after they gave Thibaut Courtois away. Courtois was sold to Real Madrid and he was signed on for 6 years. The fee which Real paid was not revealed, however, it is estimated to be around 35 million euros. Kepa went on to become the world's most expensive goalkeeper in 2018, when he moved from Althetic to Chelsea for a fee of €80m. This fee was paid fully. Before him, just days ago, Alisson had been the most expensive goalkeeper till date – until Kepa's fee broke the record.
4. He's Known To Have An Even Temper
Think about it. Have you ever seen Kepa truly angry ever – on or off the pitch? We've never witnessed him absolutely losing his cool during a game, however downhill things went. Kepa has a very cool, even-tempered head, which is what sets him apart from other goalkeepers his age. At only 25, he is known to react with maturity and calmness on the field. Kepa has an aura about him, a quiet sense of confidence, and is more mature than his peers. He's never rude and always talks calmly. 
"He was only a kid, who had just got out of the academy, but he gave off this amazing feeling of assurance. The image has stayed with me. The first ball that came to him, he caught it in a very mature way. It seemed the goalkeeper's area in San Mames—where Athletic fans are conscious of a great tradition—wasn't weighing him down," remarked Angel Iturriaga, author of Dictionary of Athletic Club Players.
"He is a calm guy. You can actually notice it in the way he talks. He has never said anything rude. He has always been very cautious, and I think that probably makes him trustworthy for his defence, and that's very important. A goalkeeper that makes the team feel confident is a very good warranty. I had amazing goalkeepers at my back like Iribar, [Luis] Arconada, [Andoni] Zubizarreta, and that gives a sense of security," added Goikoetxea.
5. Kepa Arrizabalaga Has Been Compared With Iker Casillas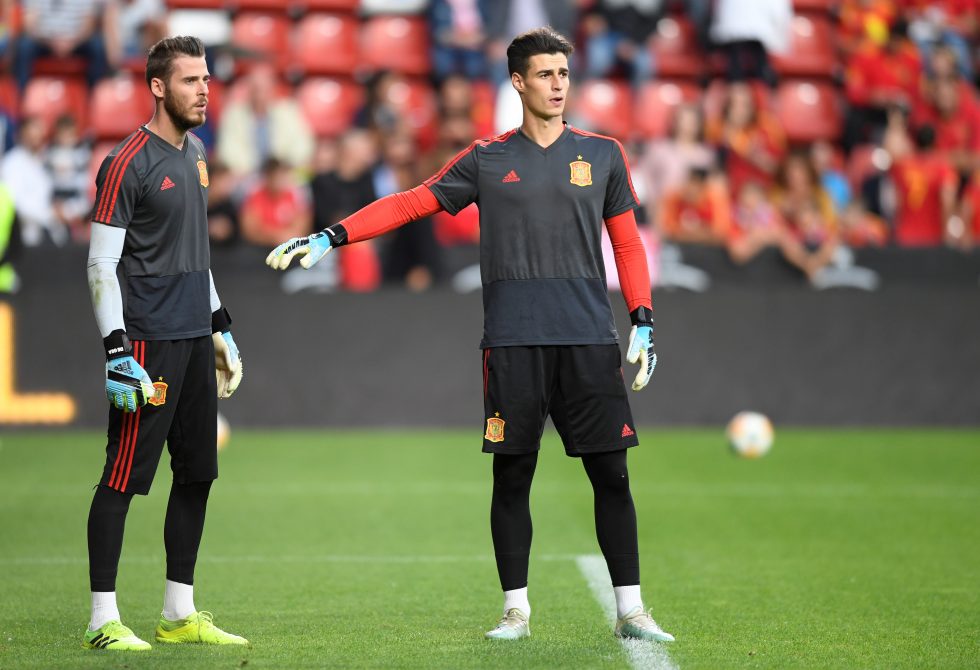 No big deal. He's only been compared with one of the greatest goalkeepers – ever! Iker Casillas is slightly shorter than Kepa Arrizabalaga, but his style has been compared with the young goalkeeper. Kepa has a lot of speed and is quick on his feet. His reflexes are strong and he is very agile, making him a perfect candidate to guard the net. Moreover, Kepa has been praised to have a strong character and personality, which is also what makes him a good goalkeeper. He is grounded and is sure of his presence, never panicking or being unsure. This surety is what makes him comparable to Iker Casillas, the Spanish goalkeeper legend.
See More: Top 5 Chelsea Goalkeepers with most clean sheets of all time
                Chelsea FC Goalkeepers 2020
                Best Chelsea Goalkeepers ever