Top 5 players who retired at Chelsea
Top players who retired at Chelsea? Who were the best players who retired at Chelsea? Which former Chelsea legends retired? Here we will look at retired Chelsea football players and the top Chelsea players who retired at the football club.
Retired Chelsea football players
A lot of great players have come and gone at Chelsea. But some players became so ingrained with the club that they could never leave for another club. These are what we call retired Chelsea football players. These footballers has retired and ended their football carrier at Chelsea Football Club.
Top Five players who retired at Chelsea
Here we will look at the Chelsea players who retired at the club. Some stars who were very loyal to the Blues have missed out because they didn't retire at Chelsea. Players like John Terry who moved to Aston Villa and Frank Lampard who went to Man City/ MLS both miss out.
5. Henrique Hilario retired at Chelsea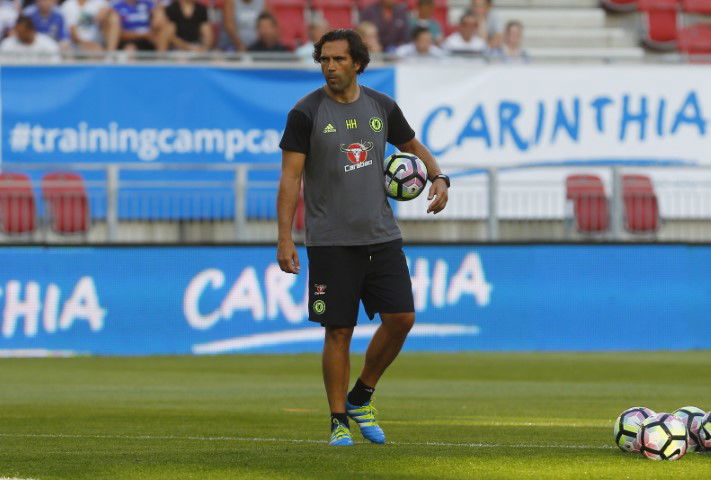 When did Henrique Hilario retire at Chelsea?
Henrique Hilario retired from football while at Chelsea in August 2014. Hilario was the third-choice goalkeeper while at Chelsea. Joining in 2006, Hilario made only 20 appearances for Chelsea before retiring in 2014.
Hilario became a well known and much loved Chelsea player after both Petr Cech and second-choice goalkeeper Carlo Cudicini were seriously injured.
The Portuguese star made his debut for Chelsea in 2006 in an important match against Barcelona in the Champions League. Hilario made a number of good saves in that game an earned a clean sheet in their 1-0 win.
After both Petr Cech and Carlo Cudicini returned from injuries, Hilario very rarely played for Chelsea. But he stayed at the club for many years despite this and retired at the age of 38-years-old.
Despite his limited playing career, Hilario is still fondly remembered as one of the greatest Chelsea goalkeepers.
Henrique Hilario's return to Chelsea
Hilario couldn't stay away from the club for very long after he retired. He returned to Chelsea in 2016 after being appointed as a first team goalkeeping coach by new manager Antonio Conte.
4. Paulo Ferreira retired at Chelsea
When did Paulo Ferreira retire at Chelsea?
Paulo Ferreira retired from football at Chelsea in May 2013. The Portuguese right-back joined Chelsea in 2004. He went on to play for nine seasons at Chelsea before retiring. Ferreira made 214 appearances for Chelsea and scored two goals.
Always a professional, Ferreira never complained about being on the bench for extended periods. He was always consistent and was praised by Mourinho as always a 7/10 player.
3. Emmanuel Petit is one of the players who retired at Chelsea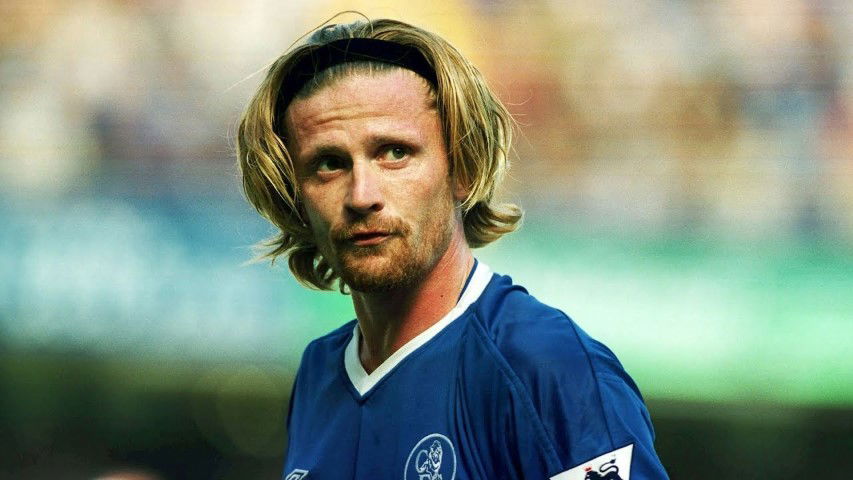 Emmanuel Petit didn't technically retire at Chelsea, he was released by the Blues in 2004. But after being released by Chelsea, Petit rejected an offer from Bolton Wanderers and subsequently retired in 2005.
Petit had some recurring injuries that plagued him throughout his later years. A knee injury was the final piece in the coffin for Petit which resulted in him retiring after being released from Chelsea.
The Frenchman had an illustrious playing career though after winning the World Cup in 1998. He played for Monaco, Arsenal, Barcelona and Chelsea. Petit joined Chelsea in 2001 and left in 2004.
The French midfielder made 76 appearances for the Blues and scored three goals.
2. Pierluigi Casiraghi is one of the top players who retired at Chelsea
Pierluigi Casiraghi joined Chelsea in 1998 but only made ten appearances for the club scoring one goal until 2000. The Italian struggled with injury issues however in the latter part of his Chelsea career.
When did Pierluigi Casiraghi retire from Chelsea?
Pierluigi Casiraghi had a serious cruciate ligament injury when he collided with  West Ham goalkeeper Shaka Hislop in November 1998.  The Italian had ten operations but was still not able to recover well enough to play again. His contract with the Blues was terminated in 2002. Casiraghi retired from football shortly after this in 2002, at only 28-years-old.
1. Gianluca Vialli is one of the players who retired at Chelsea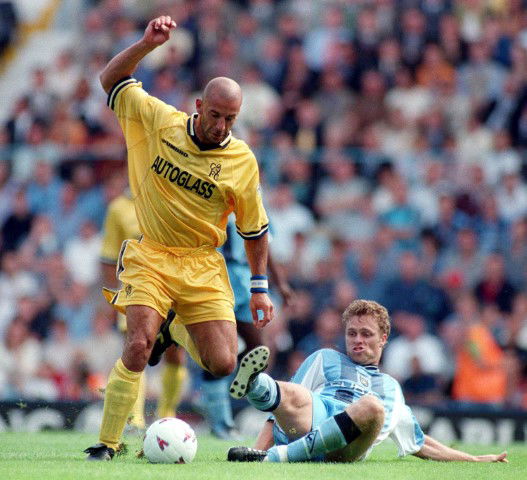 Gianluca Vialli moved to Chelsea in 1996 on a free transfer. The Italian striker joined the Blues from Juventus.
When did Gianluca Vialli retire at Chelsea?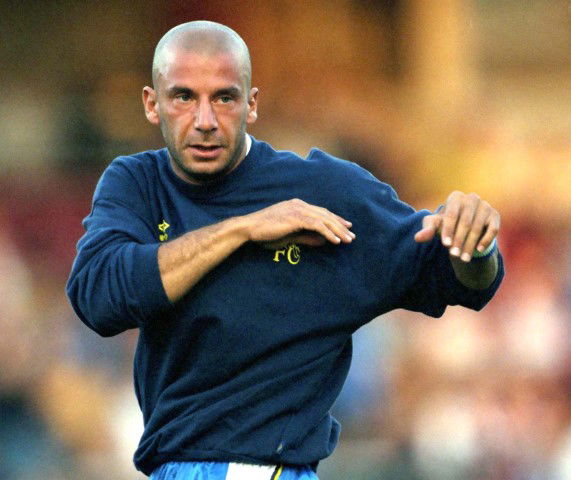 Vialli retired as a player-manager at Chelsea in the 1998/99 season but was immediately promoted as the full-time manager of the Blues for the 1999/00 season.
Vialli played 78 times for Chelsea and scored 40 goals. A feud with then manager Ruud Gullit in his first season at the club meant he spent most of the time on the bench. After Gullit was sacked in 1998, Vialli assumed the role of player-manager at Chelsea. The Italian went on to become successful as a player and a manager at Chelsea.
What trophies did Gianluca Vialli win as a player at Chelsea?
Vialli won the Cup Winners Cup and the League Cup in 1998. He also won the 1998 UEFA Super Cup against the Champions League winners Real Madrid.
Honorable mention- Peter Osgood retired at Chelsea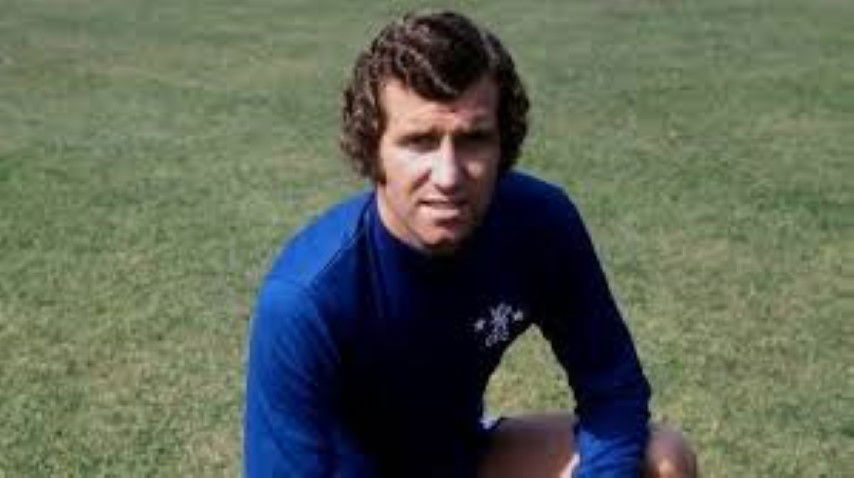 We couldn't leave Peter Osgood out of this list. Although Osgood first left Chelsea in 1974, he would later return to the club in 1978. The Englishman only made ten appearances for The Blues in his final season, scoring twice, before he finally retired.
Osgood was a legend at Stamford Bridge and is considered as one of their best ever strikers. He is the fifth-highest ever goal scorer for Chelsea with 150 goals for the club.
Retirements 2019
Gary Cahill was expected to retire at Chelsea now that he is 33 years old. However, the defender's lack of playing time under Maurizio Sarri has provoked him to look for a move away from the club.
His contract will run out after the 2018/19 season. No reports have emerged stating the Blues' interest in offering the veteran a new deal.
See also…
Chelsea players who won the World Cup
Blues summer transfer targets 2018
Top 5 most hated players at Chelsea
Most famous Chelsea players ever
Top 5 most overrated Chelsea players